Telescopic Forklifts
Buy Rough Terrain Forklifts and Telehandlers at Chicago Industrial Equipment
Rough, uneven surfaces can pose a significant challenge for heavy equipment. With a wide selection of heavy equipment specifically designed to navigate and operate on rugged terrain, Chicago Industrial Equipment has you covered. Our inventory of new and used rough terrain forklifts/telehanders for sale in Rockdale, IL includes the machine you need to efficiently and safely operate in even the most difficult conditions. Complete your projects on time and on budget with machines you can count on from Chicago Industrial Equipment.
Filter By
Buy Rough Terrain Forklifts and Telehandlers That Offer Superior Quality
We feature a large selection of new telescopic rough terrain forklifts in Chicago made only from the best. Choose from leading manufacturers known for offering innovative products that deliver the highest possible quality.
Our inventory of telescopic rough terrain forklifts for sale can include machines from trusted names such as E-Z Go Freedom, SkyTrak and JLG, to name a few. With more than 35 years of industry experience, we can help you select the ideal rough terrain forklift for your specific applications.
You'll Also Find an Expansive Inventory of Used Telescopic Rough Terrain Forklifts
If you're looking to buy telescopic rough terrain forklifts but are concerned about costs, we can help. We offer a large selection of dependable, used telehandlers for sale in IL that can save you money while still allowing you to reach your performance and productivity goals.
Choose from late-model, low-hour used telehandlers, as well as older machines that are still capable of getting the job done. Our facility includes an on-site reconditioning shop where we restore used rough terrain forklifts to like-new conditions. We also sell "as is" equipment that recently served as lease equipment.
We Offer Flexible Financing and World-Wide Shipping for Our Rough Terrain Forklifts
When you buy telehandler equipment from us, you get the benefit of flexible financing options to make your purchase even more affordable. We can also ship rough terrain forklifts to just anywhere in the USA, Canada, Mexico or other parts of the world.
Telehandlers fulfill a variety of roles in different organizations. To meet the needs of all users, Chicago Industrial Equipment carries a range of machines by JLG, Genie and other leading manufacturers. Choosing the best one for your organization requires a careful consideration of several factors. Here are some of the most popular telehandler applications, as well as the features to look for when choosing a machine for that purpose.
Telehandlers for Framing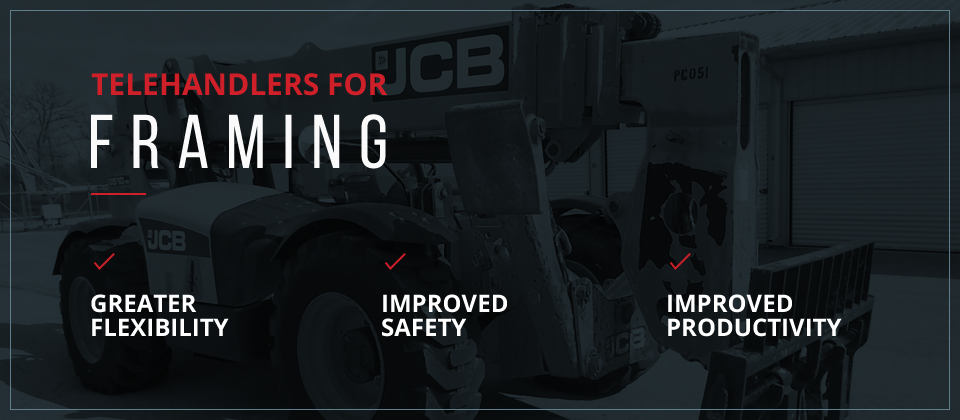 Framing is one of the first steps in any construction project. Your ability to get the job done in a timely fashion will play a key role in dictating the overall success of the build. The right equipment is critical to this, and telehandlers are no exception.
Telehandlers can assist with a variety of tasks at the framing stage of a construction project. They are most commonly used to move materials and to lift staff to work at a height. A reliable, heavy-duty telehandler can deliver several benefits, including:
Improved productivity: Telehandlers are used to haul lumber, windows and complete wall components. They can do the work of a crane, a forklift and several other tools. As a result, you\'ll enjoy reduced transportation and fleet management costs, without sacrificing productivity. 
Improved safety: Telehandlers provide fast and secure access to heights, making it more convenient to maintain safe working practices. Many of the best telehandlers for framing include outrigging that improves stability when working in rough terrain.
Greater flexibility: One of the biggest benefits of using a telehandler for framing is its versatility. Equip a telehandler with a range of tools, such as buckets, booms and jibs. The ability to switch between tools while on a job site further boosts your productivity.
The key to enjoying these benefits is to select a machine designed for the task at hand. So, how do you choose the best telehandler for framing? Consider the following factors:
Design: Telehandlers feature either a high boom pivot pin or a low pin configuration. High-pin machines offer greater lift capacity, making them better suited for multistory framing projects. Low-profile pin telehandlers have a smaller footprint which makes them better suited for residential builds where a tight turning radius is beneficial
Tires: The right type of tire for your telehandler will depend on the ground conditions you\'re using it in. Pneumatic tires can be prone to punctures but offer good traction. Foam and solid tires have better stability, though they can cause extra wear on your machine.
Attachments: The best telehandler for framing will be able to quickly switch between attachments, delivering on-the-job versatility that helps keep projects to their budgets and timelines. Choosing a machine with a variety of available tools will ultimately be a better long-term investment for your fleet, too.
For help identifying the best telehandler for your organization, contact Chicago Industrial today.
Telehandlers for Agriculture
Following the lead of Europe, where they are a familiar presence on farms of all sizes, telehandlers are seeing increasing use in agricultural operations stateside. To meet this growing market, manufacturers such as Genie, Cat and JLG offer both general purpose and agriculture-specific machines.
A telehandler can be used to speed up several common farm tasks, including stacking hay bales and moving buckets of product. They range in size from compact machines capable of lifting up to 5,000 pounds to heavy-duty equipment with capacities exceeding 10,000 pounds. A combination of your specific requirements and your budget will determine which telehandler is best for your farm.
Farm work takes place in a vastly different environment than residential construction and related tasks. As such, there are certain features you should look for when shopping for an agriculture telehandler. These include:
Low-profile design: When working around livestock or outbuildings, visibility is of critical importance. Low-pin telehandlers won\'t obstruct the operator\'s view while the boom is in use, improving safety and reducing the risk of an accident.
Heavy-duty boom and bucket: A reinforced hydraulic boom and heavy-duty loader bucket will make it easier to move silage and perform other tedious loading work. With the right telehandler, you'll see a noticeable boost in your overall productivity.
Speed and efficiency: An ag machine may be required to move across larger distances than a construction telehandler. Many of the best telehandlers for farming are designed to operate at speeds of up to 25 mph. If your application requires frequent driving, look for a machine with a high-efficiency diesel engine that will keep fuel costs down.
Quick coupler systems: Working on the farm requires the ability to adapt to changing tasks on the fly. A quick coupler system, such as those found on select Cat machines, makes switching between work tools faster.
Maneuverability: Precise controls are required to navigate around obstacles and get closer to silage piles. Look for a machine that\'s designed with operator ergonomics in mind.
The best telehandler for your farming application may contain some or all of the above features. To explore your options, contact Chicago Industrial Equipment and speak with one of our knowledgeable sales representatives directly.
Telehandlers for Construction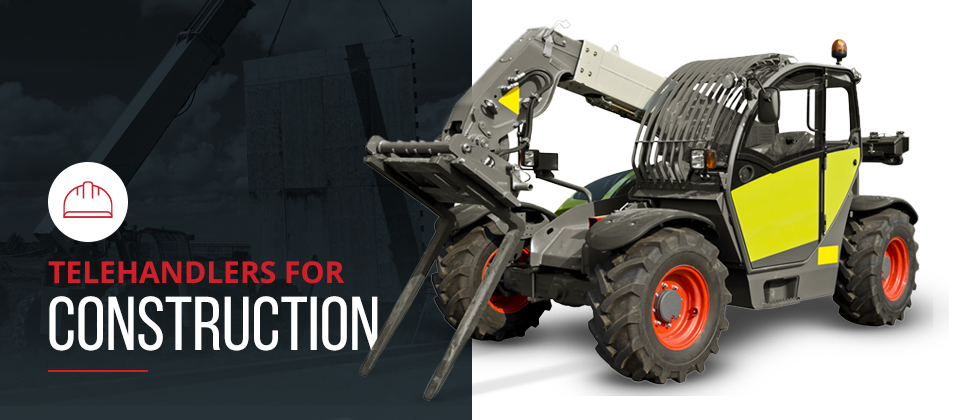 Telehandlers are an ideal addition to a general construction fleet. While the specific features you need will depend on the type of work you do, there are several broader things to look for when shopping for a machine. The best telehandler for construction will offer:
Serviceability and ease of maintenance: Extended downtime for maintenance and repairs will quickly eat into your profitability. Of course, choosing a machine that's reliable is critical, whether you buy new or used. However, it's also important to ensure that regular maintenance is easy to perform when necessary. The best telehandlers for construction have accessible components that simplify routine service work, and allow you to get back up and running at full capacity quickly.
Operator comfort: An ergonomically designed operator cabin with good visibility and precise controls will reduce fatigue during long shifts. Less fatigue improves overall safety while ensuring that fine work is done with greater accuracy, reducing the need for additional passes that take time and cost you money. Features such as an enclosed cab are worthwhile upgrades that will deliver a strong ROI over time.
Low operating and ownership costs: A good telehandler will be economical to run while still offering enough power to reach your goals. Meeting EPA emissions guidelines is only the first step — a machine must also be able to get the job done quickly and accurately. Smaller machines will be more affordable to run and transport. However, they may not be up to the demanding work encountered on large-scale construction sites. Conversely, a heavy-duty machine will cost more but is likely to offer better performance. Determining the best telehandler for your construction crew requires finding a machine with an acceptable balance between these two extremes.
Some things to ask yourself when choosing a telehandler include:
What is my budget?
What are my working needs/technical requirements?
Where will I be using the machine?
Should I buy new or used?
Will my staff require additional training?
A Chicago Industrial representative can help you go over these and other questions. Get in touch to get started today.
JLG, CAT and Genie machines are widely considered some of the best construction telehandlers on the market today. At Chicago Industrial Equipment, we carry an extensive inventory of machines by these and other manufacturers. Browse our inventory on this page or contact our office directly to learn more.
Get Your No-Obligation Price Quote Today!
Browse our current inventory of reliable rough terrain forklifts for sale in IL and contact us today for a no-obligation price quote.