Boom Lift Buying Guide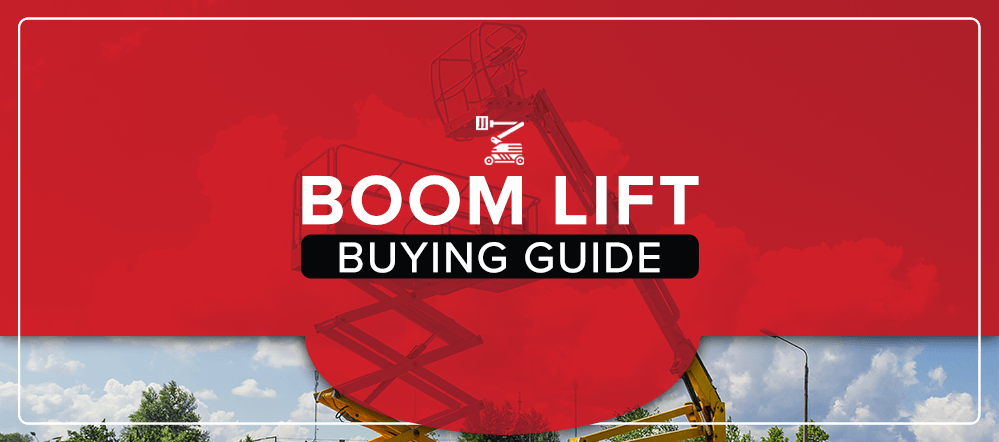 Buying an aerial lift for your construction business or project is a valuable long-term investment. The right boom lift can save you and your team time on the work site and allow you to take on new work in the future. They are also safer and more versatile than alternative options, including ladders. Let's take a look at the information you'll need to know as you plan for your purchase.
The Right Boom Lift for Your Needs
Before you make your investment, you must choose the right lift for your needs. Some of the most common types of aerial lifts for construction jobs include:
Telescopic: Telescopic boom lifts have a straight, extendable arm attached to a turntable. Telescopic lifts are fast, and you can sometimes drive them across the site while extended. These machines offer a smooth ride for the operator and worker.
Articulating: Articulating lifts, also known as knuckle booms, have joined segments that unfold based on your site requirements. This makes them highly maneuverable and ideal for challenging work sites.
Scissor: Scissor lifts do not have extendable arms like boom lifts. Instead, they have a wide platform that extends upward via accordion-like mechanisms. They are a safer alternative due to their stability and space, but they cannot reach as high as boom lifts.
How Much Does a Typical Used Boom Lift Cost?
The cost of a used boom lift depends on its age, type, model, size, the current market and who you're purchasing it from. Popular models with many built-in features or larger, heavy-duty machines might be more expensive than a more basic, compact model. Ultimately, it all comes down to the type, age and condition of the machine.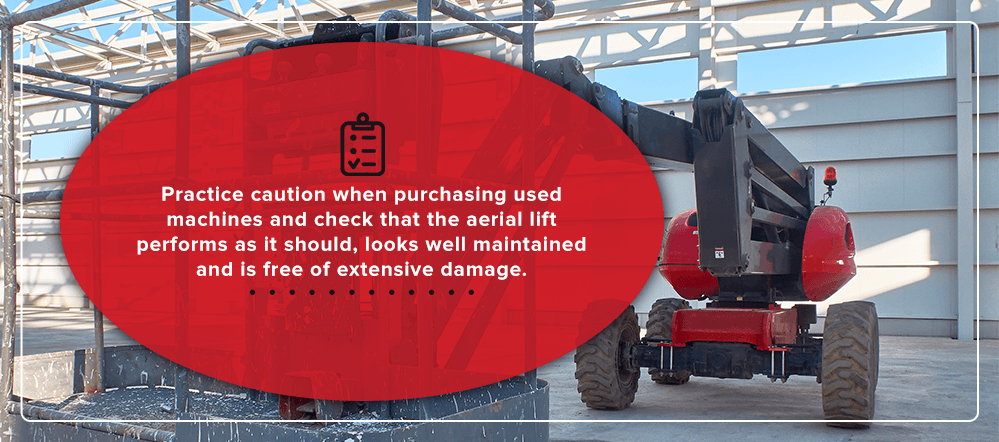 What to Look for When Inspecting Used Boom Lifts for Sale
If you want to keep your purchase cost minimal or aren't ready to invest in a new machine, the secondhand market has plenty of used boom lifts available in great condition. Practice caution when purchasing used machines and check that the aerial lift performs as it should, looks well maintained and is free of extensive damage. For best results, only shop with certified used equipment dealerships rather than private sellers.
As you shop, consider the following:
Condition vs. listing: Bring a copy of the listing with you and compare how it matches up to the condition you're seeing in person, including tire condition, external wear and tear and misalignment. If the listing left out important information, consider shopping elsewhere.
Specs and measurements: Record the specs of each machine you're interested in and compare them to see which one is best for your job site. Consider the equipment's operational hours, how it was used in the past, what brand, type and model it is, its dimensions and its load capacity.
Features and upgrades: You may want to look for used aerial lifts with special features or owner upgrades, like optimized hydraulic systems, reinforced materials or higher-rated platform capacities.
Review Vehicle Components
Use the following aerial lift inspection checklist to determine whether the used boom lift is a valuable investment:
Condition: Inspect external wear — including the frame, bucket and segments — and note any corrosion, rust and chipped paint. Check for oil stains, leaks, debris or unusual smells in the oil reservoir. Assess wiring for frays.
Performance: Turn the lift on and listen to the engine. Note any abnormal thumping or rattling sounds. Test the arm and lift mechanism for proper alignment and smooth, fluid movement. Avoid purchasing a lift that jerks while operating. Extend and retract the arm fully. If possible, test the lift with and without a load.
Modifications: Note and inspect any modification areas, if applicable. Possible modifications might include cuts, welds or railings.
Controls: A critical part of boom lift inspection is testing each operator and emergency control for full functionality, including the key switch, brakes, lights and backup alarm. You should repeat this process each time you use your boom lift.
Tires: Different types of boom lifts have different tires, including bias or radial designs. Radial tires are better at absorbing any shaking or movement while in motion, while bias tires are often more durable. Tires are also filled with either air, foam or rubber. Check the type of tire the boom lift has, including signs of wear, punctures, patches, age, brand and number of operational hours they've been in use.
Is It Welder-Ready?
Welder-readiness refers to how ready the equipment is for welded-on attachments. Lifts are either not yet suitable for welding, welder-equipped or welder-ready. If the lift isn't welder-ready or welder-equipped, you'll have to source a power supply and welder or outsource the project to a professional if you plan to make modifications.
Does the Age of the Lift Matter?
It depends on what you're going to use your boom lift for, the intensity of those projects and how long you want your investment to last. Boom lifts are strong and durable, but the newer a machine is, the longer you can expect it to last with proper care and maintenance. You should also keep in mind that if an older boom lift breaks, it may be more challenging to find the parts it needs.
Age is not as important to note as service history and performance. A 10-year-old boom lift that has been maintained and serviced regularly may be a better investment than a newer machine with extensive damage, dirt buildup or performance issues. Boom lift life expectancy varies depending on a few critical factors, including the quality of its construction, how well it's been cared for and hours of strenuous operation.
Areas to Consider
Consider the following key areas while comparing aerial lifts:
Work area needs and considerations: Consider the types of places you plan to operate the aerial lift. Are they primarily indoors, outdoors or both? Do you have an overhead clearance, ceiling or doorway height to consider when selecting a size? How tall do you need the arm to extend? How often do you plan to use your new boom lift? If you're buying used, is the equipment new enough to last you a long time? Are there any specific terrain-related considerations you need to account for when selecting tires, like hills or sinking mud?
Height, range and weight capacity: Use the information you've collected about your work area needs to choose the dimensions for your boom lift. Be mindful of the height and width if working indoors. Always measure equipment before purchasing.
Service history: If you're buying a used machine, consider its service history, including past failures or damage, whether it has any replacement parts, how often the former owner had it serviced by a professional, what kind of maintenance plan the current or former owner used, its total hours of operation and the type of work for which it was used.
Financing and warranties: Choose a machine that comes with a warranty, service or parts replacement plan to protect your investment. Some sellers may also offer financing on select machines, pending eligibility.

Choose a Seller You Can Trust
Chicago Industrial Equipment is your go-to resource for buying or renting aerial lifts. We carefully inspect, repair and engage with each of our machines before offering them to you at a competitive price. Each of our lifts is designed to accommodate workers and materials up to various heights, depending on the make and model you choose. Shop our boom lift inventory and find a Chicago Industrial Equipment location near you to get started.