Scissor Lifts
Scissor Lifts for Sale in Illinois
Choose the type of equipment you are looking for below.
Scissor lifts are versatile aerial work platforms that offer excellent maneuverability, making them an invaluable asset in many indoor and outdoor work environments. Common scissor lift applications include order picking, transferring materials at height, in-feeding of materials for processing and out-feeding of materials for packing and palletizing. Chicago Industrial Equipment offers a wide assortment of scissor lifts for sale in Illinois that are capable of reaching heights from 12′ to 53′.
Filter By
New Scissor Lifts from Genie
You'll find our inventory of more than 500 lift machines includes brand-new scissor lifts for sale manufactured by Genie, a company that has been producing cutting-edge lifts since the 1960s. A highlight of our inventory is the Genie GS 1930, a slab scissor lift with a 25' height capacity that is ideally suited for maneuvering in tight spaces and features zero-emission electric operation.
Your Source for Dependable Used Scissor Lifts in IL and Beyond
In today's ultra-competitive business climate, finding ways to keep costs low is an absolute must. We offer an impressive selection of used scissor lifts for sale so you can cut costs without cutting corners.
Choose from reliable late-model, low-hour or more seasoned used scissor lifts from respected manufacturers such as Genie, JLG, Skyjack and MEC. We carry slab and rough terrain scissor lifts that are in peak operating condition. We sell used scissor lifts that we refurbish at our on-site reconditioning shop and "as is" machines that previously served as leasing equipment.
More Than 35 Years of Industry Experience
Our more than 35 years of industry experience makes us a trusted source for scissor lifts in Chicago and beyond. We have the expertise to help you select the right piece of equipment for your applications and your budget.
Our expansive eight-acre property, located on the outskirts of Chicago in Rockdale, IL, includes a 40,000-square-foot showroom filled with top-quality lift equipment of every type, so you can be sure we have what you need. We'll also be happy to locate that hard-to-find machine for you.
Browse Our Current Inventory of New and Used Scissor Lifts in IL
Check out our current scissor lift inventory and contact us today for a no-obligation price quote. And don't forget we can ship your scissor lift to just about any location in the USA and around the world!
More Information on Scissor Lifts
Scissor lifts play a role in multiple industries. They are versatile tools for tree trimming, exterior painting and drywall hanging. The right machine will fit seamlessly into your workflow while giving your crew safe and fast access to the heights they need to reach to do their jobs properly.
How High Can Scissor Lifts Go?
A couple of the most significant factors to consider when choosing a device are the lift size and the height it will reach. Scissor lift machine sizes vary. A lift's height is typically the highest point the platform reaches.
A lift's functional height is approximately 6 feet higher than the platform height, based on a worker standing on it. The maximum platform height plus 6 additional feet for the worker is the lift's working height. While most scissor lift heights vary from 20 to 40 feet, larger devices extending up to 70 feet are available as well.
Unlike boom lifts that can extend or reach diagonally, scissor lifts only move up and down, meaning that workers must position the machine directly underneath the location where they're working. Even though scissor lifts are limited in elevation compared to other lift types, they can generally carry more weight than most aerial lifts. Many scissor lift models have unrestricted weight capacities of approximately 1,000 pounds.
How Do You Measure a Scissor Lift's Height?
Many factors determine the safe height at which a scissor lift can operate. Some of the main factors are the weight and length of the scissor sections and the working platform. These variables work together in a formula to determine the required force to support the scissor arms, the weight load and the lift platform.
Many scissor lift manufacturers, such as Genie and JLG, indicate these measurements in the lift model numbers. In most models, the numbers in the name reveal the platform width and height of the device — the first two numbers are the platform height, and the last two are the width. The Genie GS 1930, for example, has a 19-foot height and a 30-inch wide platform.
Some brands, like Skyjack, reverse the numbers, putting the platform width first and the height second. An example is the Skyjack SJ 3215.
What Are the Differences Between Scissor Lifts and Boom Lifts?
Businesses typically face two choices when selecting the right lift for their operation — scissor lifts or boom lifts.
Boom lifts feature the highest-reaching work platforms of all lift types. Telescopic boom lifts have masts that extend in a straight line by using one or more telescoping sections. Articulating boom lifts, also called knuckle booms, contain multiple hinge sections, allowing workers to access areas over obstacles and barriers.
Some of the primary differences between scissor lifts and boom lifts are:
Platform size: Scissor lift platforms are typically much larger than other aerial lift designs because they can support more weight. This feature makes them ideal for jobs that require multiple workers. Many boom lifts use buckets that hold just a single worker.
Lift heights: Most boom lift models extend much higher than scissor lifts, with some models having the ability to exceed 130 feet.
Maneuverability: Boom lifts extend workers vertically and diagonally, while scissor lifts only move vertically. Boom lifts are better if you need to reach over obstacles or maneuver around objects.
Cost: In general, scissor lifts are less expensive than boom lifts.
Hazard levels: While many hazards for each lift type are similar, boom lifts can often be more hazardous because of the heights they reach. Boom lifts are also likelier to handle outdoor tasks, so they might encounter rough terrain and adverse weather conditions.
Tips for Choosing the Right Lift for Your Application
When buying an aerial lift for your business, you should start by analyzing the types of tasks you need to perform. If your job duties are similar and usually take place on uniform types of terrain, the selection process can be much easier. Several of the critical factors to consider before making the final decision include:
Will you need to maneuver diagonally and vertically or vertically only?
How much height will you need to access your work location?
How much weight will your platform need to handle in personnel, materials and equipment?
How many workers will your platform need to contain? How large does your platform need to be?
Will you need an electric scissor lift or a diesel-powered model?
The answers to these questions will help you narrow down your equipment options. Once you know the design that works best for your operations, you can consider the features of each model and how they will work for your specific tasks.
Indoor and Outdoor Scissor Lift Applications
Selecting an optimal scissor lift for your company goes far beyond knowing the machine's lift capacity and platform size. You'll also need to consider the types of operations you'll perform — specifically, whether you'll use the lift for one task or various duties. In addition, you'll need to think about the power you need to maneuver the device around your work site and climb slight inclines.
Scissor lifts are ideal for indoor applications because they are more lightweight and maneuver better than boom lifts, mainly if the project only requires up-and-down mobility. For outdoor applications, rough terrain or 4wd scissor lifts can handle uneven ground more effectively than other lift designs.
Some of the most common indoor and outdoor scissor lift applications include:
Building maintenance: Scissor lifts can be among the most valuable tools for handling essential building maintenance tasks like washing windows, painting, repairing wires, installing trim and changing lights. They're also the perfect machine for reaching heights needed to hang signs or banners. Many residential and commercial facilities use scissor lifts, from store chains and hospitals to churches, schools and libraries.
Construction: Scissor lifts are helpful on a construction site because of their versatility. They provide a safe and steady platform, helping workers accomplish precise tasks at high elevations, from close inspections and drywall installations to cable wiring. Scissor lifts are also critical to general contracting applications like bricklaying, window replacement and gutter installation.
Warehousing: Scissor lifts are among the safest devices to lift workers in warehouse operations. Many facilities maximize their storage capacity by utilizing vertical space. Scissor lifts provide the ability to retrieve and store products when efficiency is critical.
Landscaping: Landscapers prefer scissor lifts for almost any task involved with trees. In addition, these lifts can be convenient for transporting landscaping materials to higher elevations.
Let\'s take a look at three common scissor lift uses and some of the primary considerations involved in choosing a machine for each.
Scissor Lifts for Tree Trimming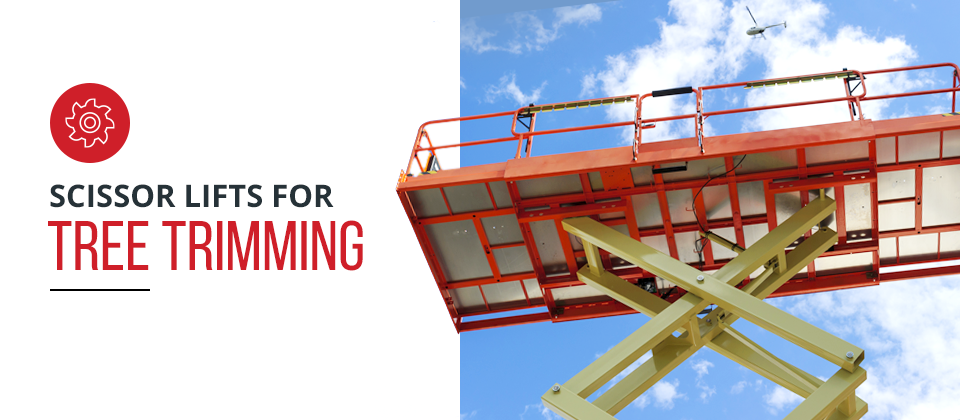 Tree trimming requires the ability to work safely at a height. While many landscapers still climb trees or use a ladder to reach their upper boughs, the fact is that using a scissor lift is faster and less risky. Scissor lifts provide access and freedom to move around as necessary when pruning, shaping or taking down a tree.
However, not all scissor lifts are created equal. Some are better suited to particular tasks than others. There are several specific things to bear in mind when choosing a scissor lift for tree trimming.
Accessibility: To trim a tree from a scissor lift, you have to be able to get at it. This requires several things. First, you must have a lift that\'s small enough to navigate through a wooded area. Because scissor lifts only move up and down, they can be more compact than telescoping or articulating lifts, which often require additional outrigging to secure in place. However, the downside to this is that you don\'t have the flexibility to maneuver around obstacles.
The other consideration with regards to scissor lift accessibility is the ability of your crew to reach branches while working at a height. A large platform means more room to move and store tools that can further extend your reach. The best scissor lift for tree trimming is one that combines a small footprint with an ample platform.
Working in Rough Terrain: Working in a lawn or garden is a different experience than operating a scissor lift in a warehouse or construction site. If you frequently have to work in rough terrain, you may wish to choose a scissor lift with tracks or heavy-duty wheels for additional stability. Many models also include features such as a level monitor that alerts you when you the machine is unbalanced.
Collecting Debris: One persistent issue when trying to identify the best scissor lift for tree trimming is that of waste. Letting branches fall is a serious safety hazard and can potentially harm the tree. Here again, a large lift platform is a highly useful feature to have. Some specialized agriculture scissor lifts even feature a built-in dump bed for dealing with waste after a job.
Chicago Industrial Equipment carries an extensive inventory of scissor lifts by Genie and other prominent manufacturers. If you\'re looking to add a scissor lift to your fleet, we can help you identify the best option.
Scissor Lifts for Exterior Painting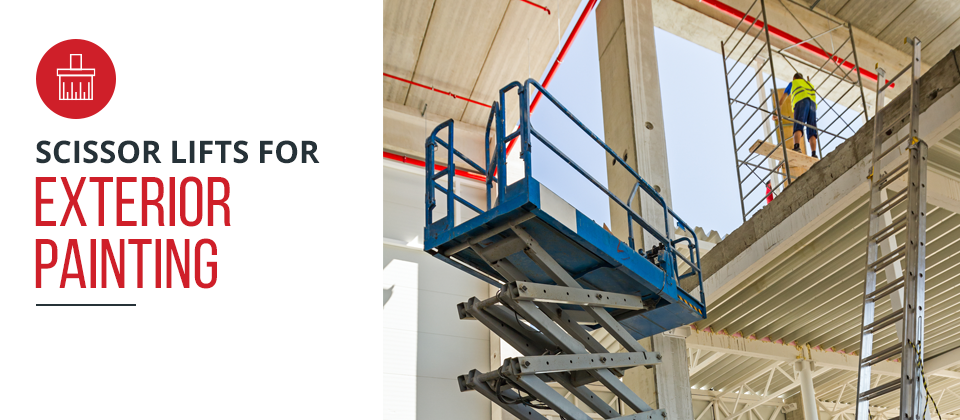 Exterior painting is another common application for scissor lifts. Because of their large work platforms, a scissor lift is uniquely qualified for paint work. Unlike other lifts, scissor-type models offer ample space to store materials and equipment, giving you the freedom to move around while you work. This makes a big job go faster helps you turn around large products with fewer expenses.
Any general-purpose scissor lift can be useful for exterior painting. The best model for your needs will likely include a variety of features designed to streamline your workflow and improve overall efficiency. Some things to think about when shopping for a scissor lift include:
Maneuverability: On large exterior projects, it may be necessary to repeatedly move a scissor lift across short distances. Because of this, electric models are usually a better choice. Constantly restarting a gas or diesel machine is time-consuming. Leaving a unit running is wasteful and expensive. Electric models solve this issue while remaining more affordable, particularly when extensive travel across large sites isn\'t required.
Transportability: Exterior painting crews need to be able to economically transport equipment to jobs, often across a large geographic area. Trailer-mounted scissor lifts with a small footprint are economical to transport and quicker to unload.
Training: It\'s not uncommon for paint crews to be augmented by temporary staff during busy periods. Students and part-time employees may not have extensive experience working with heavy equipment. As a result, it\'s important to choose a scissor lift that\'s easy to train new staff on and contains safety features to mitigate the risk of an accident.
Maintenance: Your ability to complete jobs on time and on budget is critical to the success of your business. When a broken lift prevents you from working at full capacity, it can lead to delays and dissatisfied customers. A scissor lift for painting should be reliable and should have accessible service components.
The right scissor lift will give your crew the ability to get more done in a day. Investing in a quality model by a manufacturer such as Genie — and taking the time to educate yourself about the various available features — will help you run a productive and profitable business. For assistance choosing the best scissor lift for exterior painting, contact a Chicago Industrial representative at your convenience.
Scissor Lifts for Drywalling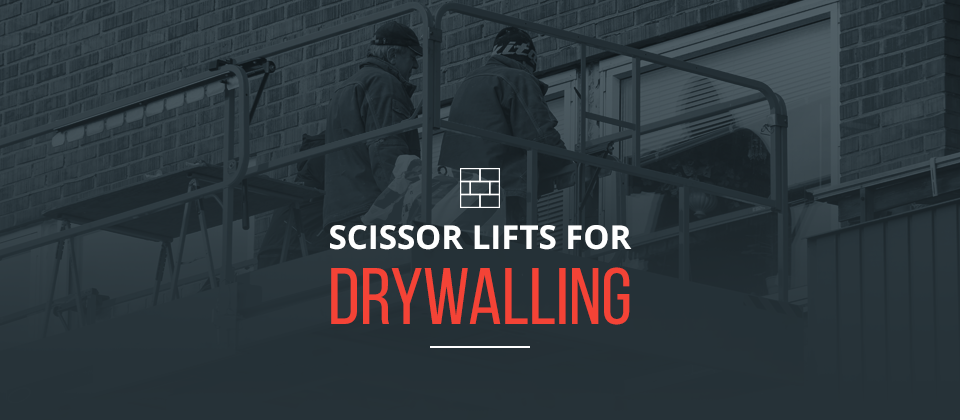 Hanging drywall on the upper stories of a large building involves a considerable amount of risk. The primary concern when choosing the best scissor lift for drywalling is safety. Staying safe while working with a lift requires assessing several factors:
Capacity: A scissor lift for drywalling must be powerful enough to lift heavy loads that include all materials, your crew and their equipment. Lifts with a larger capacity will include heavy-duty hydraulics and struts that ensure safe lifting. Never exceed a unit\'s rated capacity.
Centering: An off-center load will put you at risk just as much as an overloaded platform. When choosing a scissor lift, the unit\'s rated capacity isn\'t the only thing you should consider. Load distribution is an equally important issue. When in doubt, err on the side of caution by choosing a model with a higher rating than you need.
Stability: Construction sites may feature rough or uneven ground conditions that require specialized scissor lifts, particularly in rural or suburban builds. If your work regularly takes you into poor terrain, the best scissor lift for your crew will likely involve heavy-duty wheels or tracks to ensure safe operation in all conditions.
The other key consideration when choosing a scissor lift for drywalling is productivity. Your goal on a job isn't just to avoid an accident — it's also to get the work done in a timely, efficient manner. The best scissor lift for drywalling will offer:
Portability: A scissor lift should be easy to transport from job to job, and easy to maneuver around the site itself. Look for a unit that is lightweight and can turn on a tight radius.
Long service intervals: Regular maintenance is essential for all scissor lifts. However, maintenance takes time and money — longer service intervals mean less downtime for your crew.
Application-specific accessories: Many companies, such as JLG, offer a range of accessories specifically designed for drywalling. These include boxes for convenient tool storage and cradles for lifting drywall sections outside of the platform area.
Ultimately, there are a few important things to look at when trying to determine the best scissor lifts for drywalling. The surest way to be confident in your purchase is to work with a company that knows what it's doing. Chicago Industrial is a premier supplier of scissor lifts and other equipment. Get in touch to start exploring your options with one of our representatives.