Used Boom Lifts For Sale
Turn to Chicago Industrial for Dependable Boom Lifts in IL and Beyond
Choose the type of equipment you are looking for below.
Are you tired of being let down by boom lifts that fail to rise to the occasion? Chicago Industrial Equipment can help. You'll find our large selection of reliable new and used equipment includes an extensive inventory of boom lifts for sale with lift capacities ranging from 20'-185'. Chicago Industrial has been proudly serving the lift equipment needs for Chicago-area businesses like yours for more than 35 years!
Filter By
Buy Boom Lifts in Chicago for Just About Any Application
Boomlifts, also known as manlifts, are valuable and versatile lifting machines that can be used in a wide range of essential applications. We offer boom lifts for sale that can assist you with tree trimming, fruit picking, mining and any type of construction project that requires reaching high places. If you're looking for manlifts for sale in Chicago that will lift your people and materials safely and security, we have you covered!
Boom Lifts for Sale Only From Trusted Manufacturers
Performance, reliability and, most importantly, safety are critical considerations when evaluating boom lifts. That's why Chicago Industrial only offers boom lifts for sale from experienced manufacturers that have consistently received high marks in each of these three essential areas. With boom lifts from highly respected manufacturers such as JLG comprising our inventory, you can buy boomlifts from us with complete confidence.
The Best Used Boom Lifts for Sale in IL
Purchasing used manlifts in IL is a great way to keep your operating costs low — and your profits high! We offer two types of used manlifts for sale: machines that have been expertly refurbished at our fully equipped reconditioning shop and equipment that is sold in "as is" condition. You get a dependable boom lift that you can count on to get the job done.
Choosing the Right Boom Lift for Your Application
The right boom lift can make all the difference for your business and save you time and energy while also providing added safety for your crews when they're working at elevated heights. At Chicago Industrial, we carry a variety of boom lifts that suit your needs for:
Aerial Lifts & Boom Lifts for Construction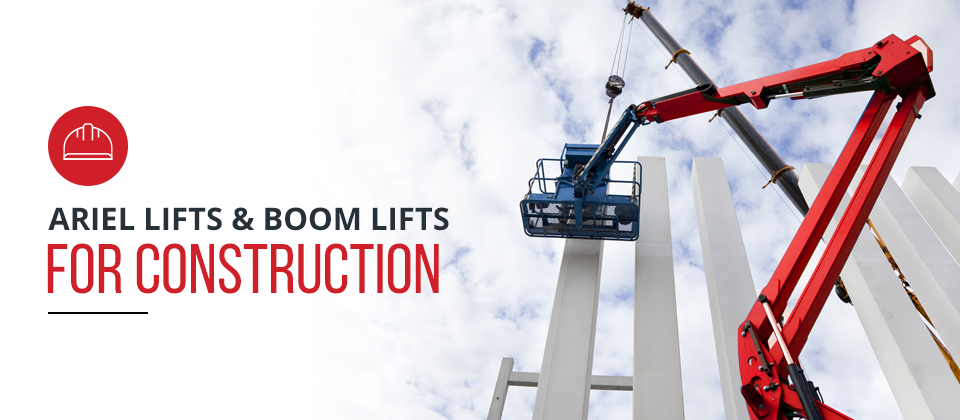 The best boom lifts for construction take into account the types of terrain you'll be working on. Your construction site includes a mix of flat, uneven and rough terrain that evolve as your project advances. To give yourself the best access when working above the ground, choose a boom lift that gets you into position with a wide and stable base.
When you browse our selection of boom lifts here at Chicago Industrial, we make it easy to choose the right construction lift that's adapted to the unique challenges of your site. We list all of the features and specifications you'll need to select the lift, including important factors such as:
Tire type: Large-diameter tires help you get into position even on rough construction sites. If you will be moving your boom lift around frequently, think about choosing tires with adequate grip.
Fuel type: A fuel-efficient boom lift is important to keep you on budget, especially during long construction projects. Make sure you have easy access to the fuel type your boom lift uses.
Power: For multi-man boom lifts or for lifting heavy equipment and tools, it is critical to choose a boom lift with enough lifting power. An underpowered lift will require multiple lifts and waste time.
Mast height: Mast height is one of the limiting factors of your boom lift. Consider not only the typical work height at your construction site, but also the maximum reach you might need from time to time.
Maneuverability: If you will be working in tight spaces and surrounded by other equipment, ensure the boom lift you're choosing has the width and turning radius that provides maximum maneuverability.
A boom lift is a popular and practical addition to any construction. You can use it to transport equipment and material and gain access to elevated areas. Your boom lift also allows you to extend the mast over a pit or trench, giving you the flexibility to work safely during all phases of your construction project.
Don't leave anything up to chance. Instead, turn to our dedicated Chicago Industrial team and let us help you find the perfect boom lift for your site. We have a large inventory here on our site that you can browse right now, so take a look and choose the boom lift make and model that covers your construction needs.
Aerial Lifts & Boom Lifts Tree Trimming
If your work involves tree trimming, a boom lift is extremely practical. It allows your crew to position for the best access and safest trimming, instead of forcing them to use ladders and platforms that need to be repositioned constantly. A boom lift allows you to get in, raise into position and do your trimming quickly and effectively.
At Chicago Industrial, we carry a range of boom lifts that are perfect for tree trimming. They include the performance and safety features you demand and easy, intuitive controls for getting into the right position for cutting and trimming all types of trees. The best boom lifts for tree trimming combine the following features and capabilities:
Large tires with adequate traction: The right tires allow you to access trees in many types of terrain and ensure safe and stable installation of your lift even when the ground isn't level.
4x4 traction: A four-wheel-drive system adds even more practicality when you need to crawl up steep or uneven terrain or are trimming trees on loose and unstable ground.
Mast height: When possible, choose a boom lift that exceeds your typical tree trimming height. This allows you to chose the right position at the level of your branches, instead of working below them.
Platform size: If you will have multiple people working on your lift at the same time, choose a boom lift with enough space for both people to safely perform their tree trimming tasks.
Maneuverability: For fast and efficient tree trimming, you need a boom lift that allows for easy maneuvering of the lift on the ground as well as for the mast and work platform in the air.
When you're trimming trees, you need to pay attention to the branches you're trimming as well as where they're falling. You don't have time to waste trying to find a secure position on inadequate equipment and ladders. Instead, opt for the perfect tool for the job: a practical and maneuverable boom lift designed for elevated work.
You can browse our online inventory of boom lifts or contact our Chicago Industrial team. We'll tell you more about the great features and capabilities of each of our lifts and help you choose the model that suits your tree-trimming needs. Tree trimming is easier and safer when you include the right boom lift for the job.
Aerial Lifts & Boom Lifts Exterior Painting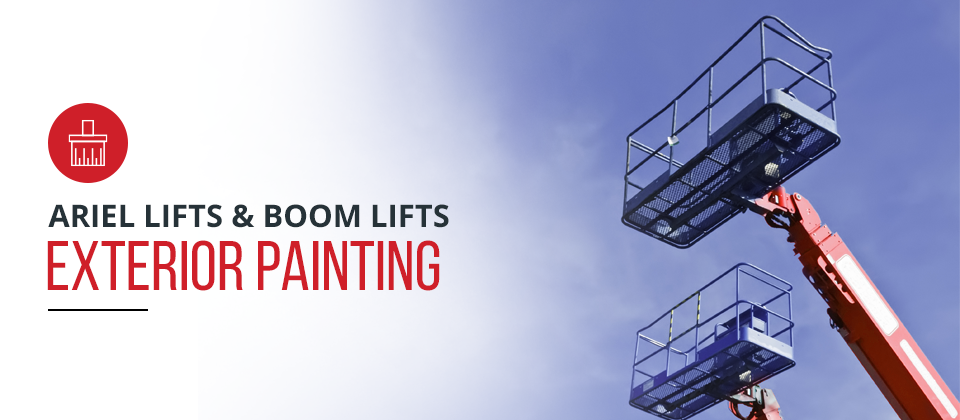 A quality exterior paint job takes care and concentration. You want to apply an even coating of paint without missing any spots. A stable and maneuverable work platform allows you to focus on your painting and avoiding wasting paint on overspray and re-spraying and also adds to the comfort and safety of your painting crew.
If you're looking for a flexible and easy to position work platform, consider a boom lift from Chicago Industrial. We carry a broad range of different makes and models with different features designed to suit your painting projects. When you browse our inventory of boom lifts, look for models with the following attributes:
Easy-to-use controls: The controls to move your platform and adjust the mast height and position on all of our lifts are ergonomic and intuitive and allow for precise positioning for your exterior painting.
Stable platform: When you're painting complex exterior surfaces at elevated heights, you need a large stable platform that allows you to move into the right position to best apply your paint.
Safety features: Safety is key for anyone working on an elevated platform, which is why our lifts include strong railings and gates and built-in security features for the hydraulics and electrical systems.
Maneuverability: Every exterior painting job is different, with unique obstacles and terrain to navigate around. Choose a boom lift that is the right size and has a suitable turning radius.
Fuel: If you frequently use a boom lift for exterior painting, you'll want a model that uses readily-available fuel and offers you good fuel economy for lower operating costs for a healthier bottom line.
Don't waste time and energy on your exterior painting projects with inadequate ladders and work platforms that take time to reposition as you progress. Our powerful lifts include practical controls that allow you to quickly move into position once you've completed one area and want to move on to the next.
Every working environment and job site is different, so take the time to consider the type of boom lift that best suits your need. At Chicago Industrial, our lifts come with different load capacities, mast heights and platform sizes to cover all situations and painting environments. You can select the model that suits your business from our list or contact us for help selecting the right model. We'll answer any questions you might have and use our years of lift experience to point you in the right direction.
Check Out Our Current Boom Lift Inventory
Browse our current inventory of reliable boom lifts for sale. Take advantage of our flexible financing options and extensive shipping network — we can ship our manlifts to just about anywhere in the USA and around the world. Make Chicago Industrial your one-stop boom lift headquarters!