Forklift Purchasing Guide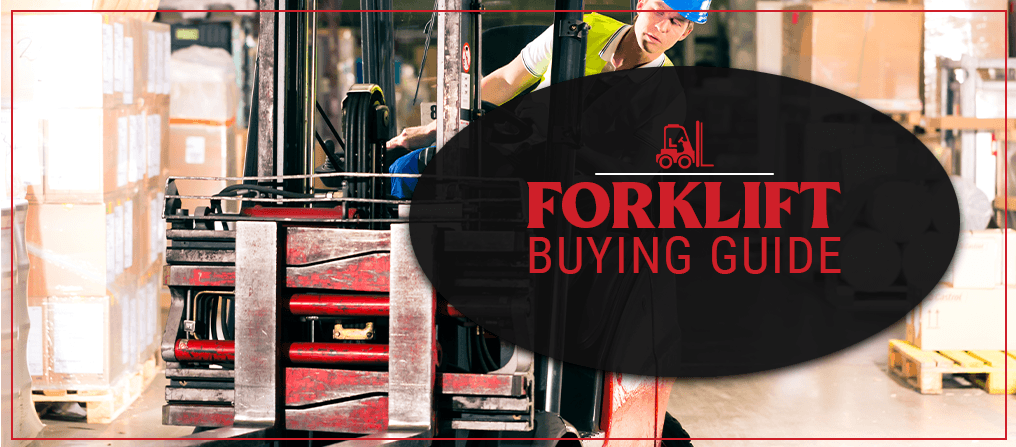 Forklifts are an integral part of warehouse operations, but how do you choose the best one for your business? Whether you're a new business or are seeking to expand, you have several options when buying a forklift. In addition to dozens of different manufacturers and types of forklifts, you can choose whether you're going to rent or purchase your machine and if you're going to buy it in new or used condition.
Learn more about industrial warehouse forklifts, including questions to ask when buying a used forklift and what to look for in a machine.
Understand Your Needs and Budget
Before you head to your local dealership, you need to know what you're looking for. You don't need to have a specific manufacturer or model in mind — a sales representative can help you make the best choice if you're unsure. However, you do need to have a general idea of the type of machine you need. Consider the following:
Project needs: What tasks do you need your forklift to complete? Will it be moving heavy loads and materials? Does it need to support a certain number of workers? The answers to these questions will help you determine the size, type and dimensions you need. You should also factor in whether or not you are purchasing a forklift to satisfy a one-time task or ongoing project demands.
Work site conditions: If you're buying a forklift for warehouse use, most of your work is likely indoors. If so, be sure to consider the size of the space you're working in, including the width of the aisles and the height of the ceiling. You can find forklifts in both tracked and wheeled variations, depending on your needs. Tracked forklifts are ideal for outdoor use, while wheeled machines are better for indoor use and navigating tight spaces.
Ongoing budget: When you consider your budget, factor in the initial investment cost, as well as the cost of fuel, storage, maintenance, upgrades and regular servicing. Your budget will ultimately help you determine whether you should rent or purchase and whether a used or new machine is the best fit for you.
What are the types of forklifts for warehouses?
As a warehouse operator, you have several types of forklift options available to help you complete various tasks. Popular forklift options include:
Warehouse forklift: This is the standard machine used in most warehouses to lift and transport materials and pallets.
Side loader: Side loaders are a special type of warehouse forklift that allows you to drive and load things onto the machine without turning, making it ideal for narrow aisleways.
Industrial forklift: Industrial forklifts are for heavy-duty applications. They are constructed to withstand heavier loads and have larger carrying capacities than standard warehouse forklifts.
Pallet jack: Pallet jacks are forklifts intended for use in small work areas and challenging spaces.
Order picker: Order pickers are warehouse forklifts capable of reaching extensive heights to access stacked materials or industrial shelving.
It's also important to note that some forklifts rely on industrial battery-powered electricity to operate, while others utilize gasoline and an internal combustion engine.
What to Look for When Buying a Used Forklift
Buying a used forklift is a great way to keep costs low, and many dealerships have an extensive inventory of used equipment with different manufacturers and models. When choosing a used machine, a pre-purchase inspection is essential. You can perform this inspection yourself, or bring a trained professional with machinery experience.
When inspecting a used forklift, check the following areas:
Overall appearance: Before you dive too deeply into your inspection, take a look at the machine's overall appearance. Does it look clean and well cared for? Are there any visible markings or damage? Although there may not be a definitive way to know how well someone has cared for a machine when you're buying from a private seller, a poor appearance is often an indicator of poor care.
General operation: It's time to test the forklift's general operation. Turn it on and listen for any sounds or stutters. Test all features, including tilt, pivot, steering and braking. If possible, transport a test load with it. Move forward and in reverse. Then, turn the machine off, and continue to note concerns.
External components: Visually inspect external parts of the machine for signs of wear, damage or modification, including the forks, mast, mast rails, lift chains, cylinders, chassis, frame and tires.
Internal parts: Internally, be sure to examine the condition of the engine compartment, exhaust guard, counterweights, transmission and radiator. Note any corrosion, loose parts or abnormal smells. If any internal parts are leaking or emitting smoke, consider this a red flag.
Cab condition: Make sure the seat is comfortable and in good condition and that the steering mechanism works in each direction. Note any cosmetic damage, like tears and discoloration. If there are windows, make sure there are no severe cracks or chips. Test the seat belt, alarms, horn, lights and any additional features the machine has.
Does Forklift Age Matter?
The forklift's age refers to the year it was manufactured, as well as how long it has been in use. While age might matter if you're looking for a specific feature or model, it's not as important as the forklift's condition. Many used machines have been well cared for and serviced over the years, so they perform just as efficiently as newer models.
Do Forklift Hours Matter?
Forklift hours are the total number of hours the forklift has spent in operation. Though this is useful information to know when you're seeking a long-term investment or determining a fair price, forklift hours are secondary to other factors. Instead of focusing on total service hours alone, ask for a complete history of the machine. What did the previous owner or owners use it for? Did it operate in extreme temperatures or near salt air? How fuel-efficient is the machine?
Forklift Pricing Guide: Things to Consider
How do you know you're getting a good deal when purchasing a machine? Consider some factors that influence the cost of a forklift, including:
New versus used: New forklifts are typically a larger investment than used ones, assuming they are similar makes and models. Some sizes and types of forklifts are more expensive than others, regardless of their condition.
Specifications: Make sure your new or used forklift meets all your specifications, including the type you need, the height of the mast when it is raised or lowered, the width of the forklift and whether it is electric or requires gasoline.
Application: If you're buying a used machine, take into account all the information you know about its past, including its age, service hours, past environments and previous applications.
Service history: Note the service history of the machine, if applicable. Has it been repaired, serviced or upgraded in the past? If so, was it done by a licensed and trained professional or dealership? Are all replacement parts from the same manufacturer as the original forklift?
Choose a Seller You Can Trust
When shopping for a new or used forklift, the best decision you can make is choosing to work with a reputable equipment dealership like Chicago Industrial Equipment. Our experienced technicians can answer any questions you have and help you choose the best forklift for your business or project. You will also enjoy access to an extensive inventory of new and used machinery. Quality is important, which is why we personally inspect and service each of our machines in-house.
Browse our website to learn more about our new and used forklifts for sale and find a Chicago Industrial location near you.