Used Genie GR-15 Lifts for Sale
Are you looking for a lift that will deliver top-notch performance at an affordable price? Chicago Industrial Equipment's used Genie lifts will provide the standards of safety and reliability that you need. The Genie GR-15 is a sturdy work lift and platform designed to help your workers reach high areas during major construction applications while keeping them comfortable and secure. Our inventory of used Genie GR-15 products for sale will help you save money and increase the efficiency of future projects.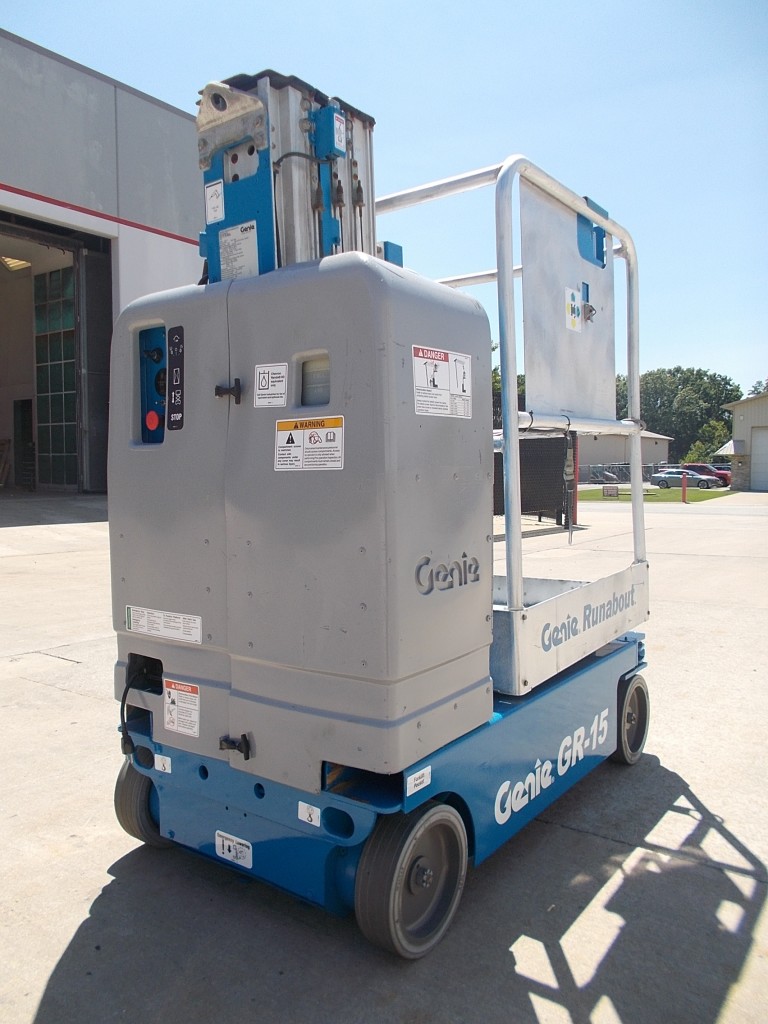 A Trusted Brand for Vertical Mast Lifts: Genie
Organization leaders and construction workers worldwide trust Genie as their resource for high-quality construction equipment. The brand is well-known for manufacturing vertical mast lifts and platforms, which can help keep operations running on schedule at job sites.
For workers who need to install or perform maintenance on a structure that's off the ground, the Genie lift is a convenient and productive option. This brand has been a major part of the construction and maintenance industry since 1966, so we strive to support businesses that use their equipment with our range of refurbished options.
Genie GR-15 Standard Specifications
Each used GR-15 for sale from Chicago Industrial is telematics-ready with its own on-board diagnostic system, hydraulic brake release and work station tray for your convenience. These machines come with a wide variety of specifications that set them apart from other products, including:
Working Height: 20 feet, 8 inches
Platform Height: 14 feet, 8 inches
Power Supply: 24 volts
Lift Capacity: up to 500 pounds
Drive Speed Lowered: 2.5 mph (4.0 km/h)
Drive Speed Raised: 0.5 mph (0.8 km/h)
Inside Turning Radius: Zero
Weight: 2,192 pounds
Armed with a range of features such as pothole protection, battery charge detection capabilities and dual wheel brakes, the Genie GR-15 is designed for convenience and safety. Other major features offered by the Genie GR-15 include:
A sliding platform midrail
Motion alarm
Dual LED flashing beacons
A patented rigid mast system
AC power to platform
Tiedown and overhead attachment points
A SmartLink™ control system
Benefits of Purchasing a Genie GR-15 Lift
The greatest benefit of purchasing one of our used Genie lifts is that you'll receive all the quality and convenience of a major brand product while spending less money. This is a lightweight, electrically operated machine that will give you the freedom to set your own pace and take on more demanding jobs.
The Genie lifts we have for sale come with intuitive platform-lowering capabilities along with simple access to hydraulic and electrical mechanisms. These advantages promise a smooth experience for your workers and will help put your mind at ease each day. Our manual Genie lifts will keep your operations safer, easier and more cost-effective.
Contact Chicago Industrial for More Information
Every used product is thoroughly serviced and inspected before leaving our facility, so you can rely on a quality product when you buy from us. Take advantage of our shipping options and affordable products today or reach out to learn more about our financing opportunities!