Used Genie GR-20 Lifts for Sale
Construction and maintenance workers around the world use Genie GR-20 lifts to reach incredible heights while on the job. This product is a high-performance aerial work platform designed to help your workers operate more quickly and efficiently while doing installations and repairs in high places. At Chicago Industrial Equipment, our used Genie GR-20 products meet high standards of safety and productivity. We're prepared to help you find whatever piece of equipment you need.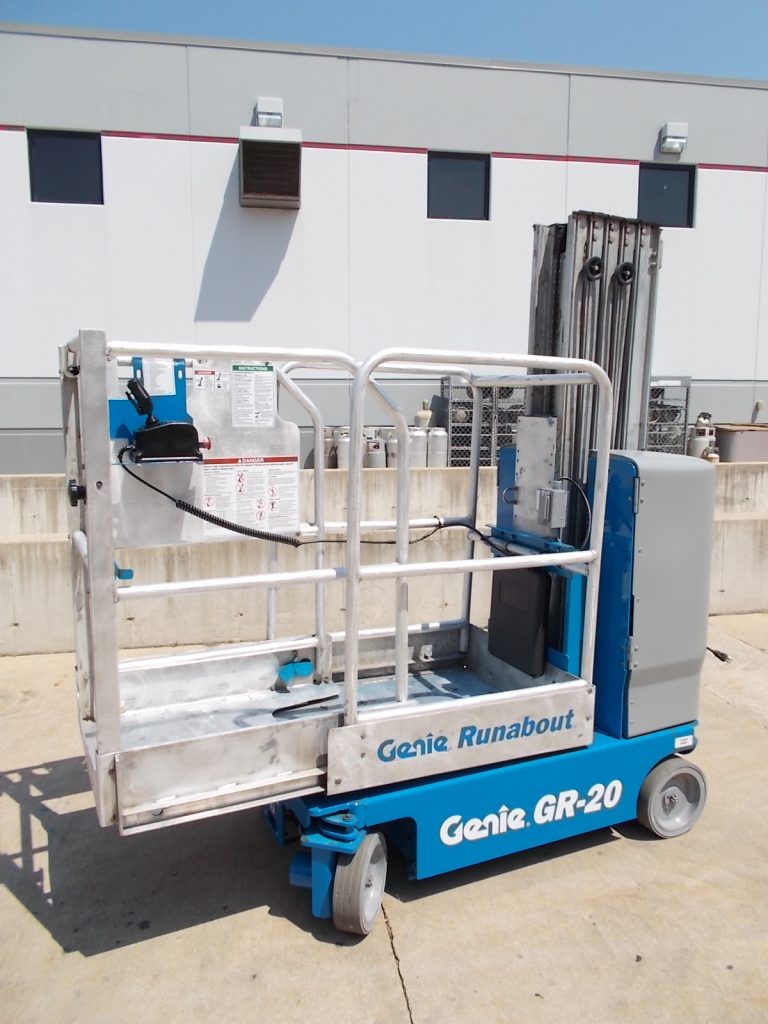 Choose Genie: A Trusted Brand for Aerial Work Platforms
The Genie brand has been improving workplace productivity for construction workers since its origins in 1966. While it was acquired by Terex in 2002, it continues to deliver technologically advanced equipment solutions for industries with specific needs.
We deal out used Genie runabout lifts because we know that many organizations depend on these pieces of equipment to keep their operations running on schedule. Genie GR-20 lifts are trustworthy, convenient and easy to manage due to their light weight and wide variety of capabilities.
Genie GR-20 Vertical Mast Lift Specifications
Our GR-20 aerial platforms for sale come with a SmartLink™ control system and many other benefits, which make a Genie lift the ideal efficiency-increasing device. Genie GR-20 specs include:
Working Height: 25 feet, 9 inches (8.02 meters)
Platform Height: 19 feet, 9 inches (6.02 meters)
Power Supply: 24 volts
Lift Capacity: Up to 350 pounds (159 kilograms)
Inside Turning Radius: Zero
Drive Speed Lowered: 2.5 mph (4.0 km/h)
Drive Speed Raised: 0.5 mph (0.8 km/h)
Weight: 2,451 pounds
While the lift capacity of the Genie GR-20 is lower than that of Genie's GR-12 and GR-20, it can reach heights that are unattainable by previous models. It also boasts a range of essential features, such as an on-board diagnostic system, a patented rigid mast system and hinged rear ABS covers for your convenience. Some of the other features listed in the Genie GR series manual include:
Auxiliary platform lowering
Battery charge indicator
Motion alarm
Dual-wheel brakes and hydraulic brake release
Non-marking tires
Platform with a sliding midrail
A descent and tilt alarm
Benefits of Purchasing a Genie GR-20 Lift
Our used Genie GR-20 lifts use electricity and offer high energy-efficiency, which contributes to their overall cost-effectiveness. When you choose Genie runabout lifts from Chicago Industrial, you'll have access to a light, easy-to-manage device that can help you put your all into every project.
Because the items from our shop are used products, they often sell at major discounts compared to their original prices. These also have pothole protection, and they come with multiple useful accessories such as extension platforms, retractable charging cords, platform control guards and more.
Contact Chicago Industrial for More Information
If you order a used Genie lift on sale today, we'll offer fast, reliable transportation services for your product. We optimize and test all our products for the highest standards of quality. We also have financing options if you need extra assistance, so contact us today for more details.