Used Hyster H50FT / Hyster S50FT
The Hyster S50FT and Hyster H50FT are incredibly versatile lift trucks that are ideal for indoor use. If you operate a warehouse, a construction company, an industrial operation or a similar business, the Hyster S50FT and Hyster H50FT can be used for freight transportation, moving fabricated metal products and lifting other materials quickly and effectively.
At Chicago Industrial we offer a huge selection of pneumatic tire forklifts, including options when you need a used Hyster H50FT for sale. We offer used equipment from leading industry names and brands like Hyster because these manufacturers are known for delivering high-quality products that perform reliably over time — even in challenging conditions. Make sure you're getting the value and performance you need from pneumatic tire forklifts when you find a used Hyster H50FT in our selection.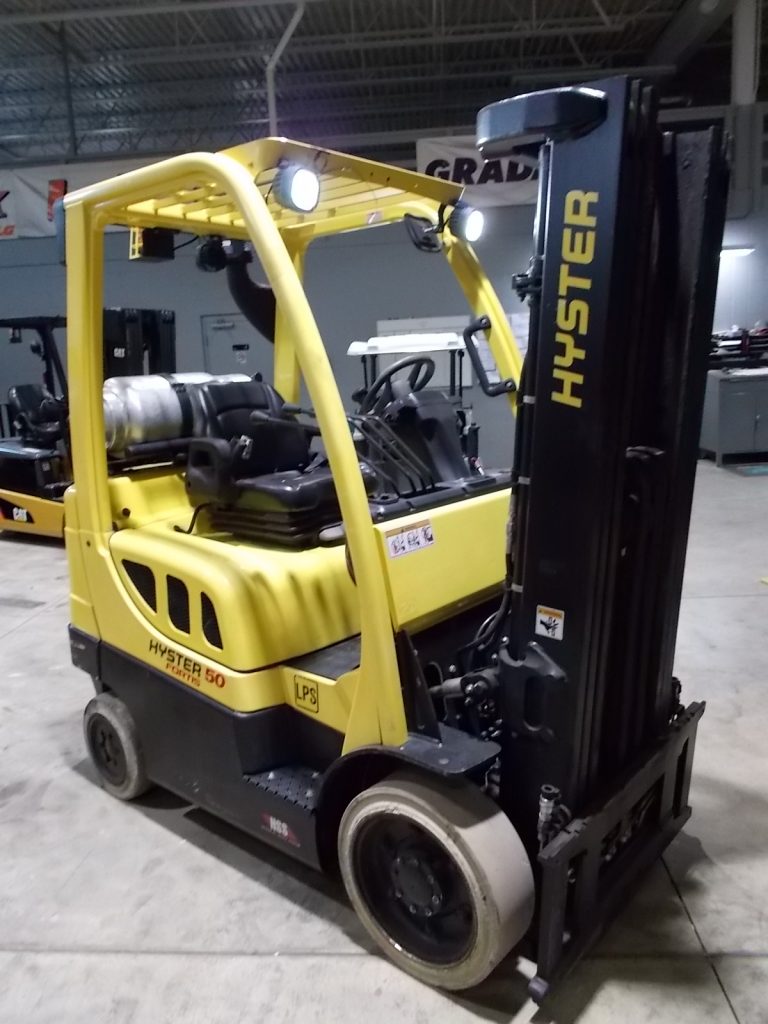 Hyster H50FT Forklift Features 
When you choose a used Hyster S50FT or used Hyster H50FT for sale, you get a range of features that help you and your team work productively. Standard features include hydrostatic power steering, anti-restart protection, electronic powershift transmission, an LCD display that shows fuel level, hour meter, coolant temperature, a clock, messages and more, plus others.
As you browse our selection of used Hyster H50FT options, you'll find that each one is a little bit different. More specifically, there are a number of optional features available when buying a used Hyster S50FT or used Hyster H50FT, so look for a unit that includes optional features that could benefit your business the most.
Hyster H50FT Specifications 
Many buyers of used Hyster S50FTs and used Hyster H50FTs want to know about the exact specifications. These models offer a capacity of 5,000, diesel fuel, a mast height of 87 inches when lowered, a mast height of 189 inches when raised, semi-pneumatic tires and max travel of 11.3. 
As noted above, the Hyster H50FT often finds use in indoor areas that require heavy lifting and movement of heavy objects. As far as indoor forklift models go, the Hyster H50FT and Hyster S50FT are among the toughest, most durable, best performing models you can find. And, when you choose used options, you get even more value for your investment than you would when buying new.
Contact Chicago Industrial for More Information 
At Chicago Industrial, we are passionate about connecting construction and industrial businesses with the used equipment needed to do their work on a day-to-day basis. That's why we offer a huge selection of used forklifts and other equipment to choose from, including options from leading manufacturers like Hyster.
To make your life as easy as possible, we offer affordable freight shipping to any location in the country. We can even arrange financing if you'd like to spread out the cost of purchasing used equipment. If you have questions about our selection, the Hyster H50FT, the Hyster S50FT or anything else, please don't hesitate to get in touch with us.