6 Tips to Keep Your Construction Project Plans on Schedule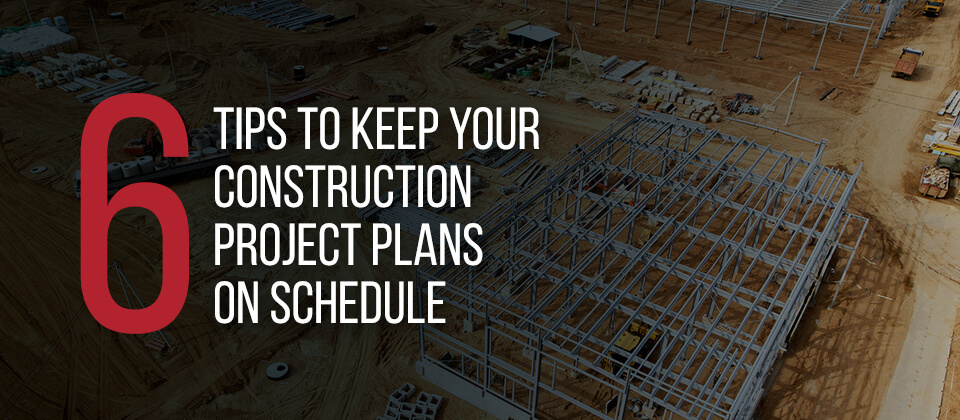 Falling behind schedule is one of the most common ways construction businesses lose revenue. According to a 2020 industry survey, almost 60% received lower payments due to missing deadlines.
Keeping up with your construction schedule requires continual effort and attention to detail. These six tips for construction project planning and scheduling will help you learn how to construct a project plan that stays on schedule.
1. Review Specs and Project Information
Making sure you understand everything your project requires is key to knowing how to plan a construction project that will stay on schedule. Slowdowns and delays are the results of unexpected situations. Reviewing your project documents, including specs and construction drawings, helps minimize what can catch you by surprise. These documents can serve as a blueprint and help you create a schedule that accounts for nearly anything.
Taking the time to familiarize yourself with all the information will make it easier to:
Plan your layout: A clear understanding of how the site drawings translate to real life can help you design an efficient job site layout. You'll be able to judge the most efficient areas to store the materials and equipment needed for different tasks. You can also place break areas and the site trailer in spaces that will stay clear, saving you the time and energy of moving them around.
Coordinate deliveries: Logistics are a significant part of a successful construction project plan. A careful survey of the specs will help you work with your suppliers and manufacturers to ensure you receive the quantities of what you need when you need it.
Consult your subcontractors: Thoroughly reviewing your project information lets you ensure your subcontractors receive any and all documents or drawings they need to review. You can clear up any confusion, ambiguity or inconsistencies before the work starts and confirm they have what they need to work quickly and efficiently.
2. Create a Master Schedule
Creating a master schedule lets you track tasks, deliveries and multiple work schedules in the same place. You'll refer to this schedule throughout the project to see whether or not you're still on track.
A master schedule lets you prioritize and assign tasks, verify essential deliveries and coordinate work for all your crews and subcontractors. You can create your master schedule with the following steps:
Identify and outline each stage: Break the project down into stages. For example, a residential construction project might consist of preparing the job site, laying the foundation, building the structure and installing electrical, HVAC and plumbing systems. Once you've established all the stages, separate each one into activities, then divide each activity into individual tasks.
Establish the order: Determine if any tasks or activities rely on you finishing something else first, then organize those items in the order they need to be completed. You'll also want to flag any tasks that your crews can work on at the same time.
Fill in subcontractor schedules: Work with your subcontractors to find the best way to coordinate their work into the project. Incorporate each subcontractor's schedule into the master schedule to create a smoother overall workflow.
Schedule each task: Estimate how much time each task, activity and stage will take and assign starting and completion dates.
Schedule your deliveries: The project documents and data from previous projects will let you know what materials, equipment and labor you'll need to complete each task. Coordinate with suppliers to schedule the best times for deliveries.
3. Encourage Communication Between All Teammates
Maintaining clear and open lines of communication is essential to keeping construction project plans on schedule. Communication between the general contractor and client helps maintain awareness of any changes. It's also crucial for the general contractor, project managers, subcontractors, office staff and site crews to communicate with each other.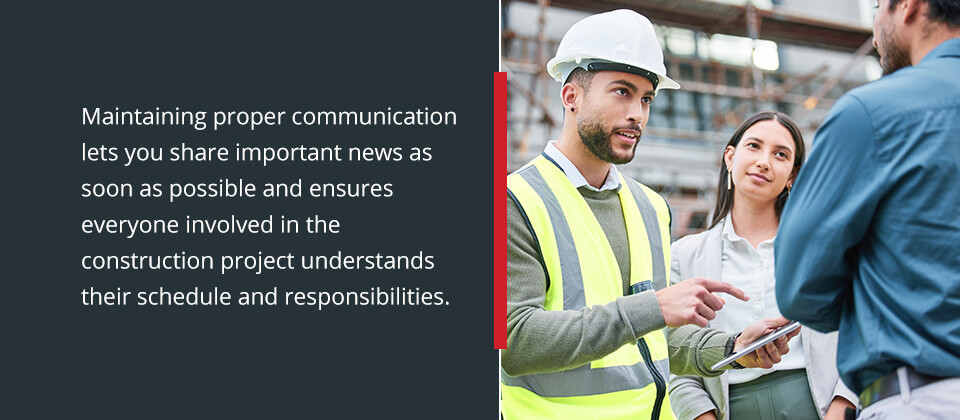 Maintaining proper communication lets you share important news as soon as possible and ensures everyone involved in the construction project understands their schedule and responsibilities. In turn, they can keep you up-to-date on potential scheduling issues that might cause delays.
An atmosphere of collaboration and collective problem-solving encourages communication and makes people more likely to voice their questions or concerns. Scheduling regular meetings can foster that sense of open communication and give people a chance to speak up.
4. Establish Contingencies
No project ever goes completely according to plan, but with careful preparation, you can add contingencies to your schedule that let it adjust to the unexpected. Start by carefully reviewing your master schedule to pinpoint risks that could slow progress. Once you've identified the risks, consider how to build contingency plans to deal with them if they come up.
For example, your project's timeline might include a period when your area is prone to severe storms. Having a plan to address the need for extra workers and equipment can help minimize delays and let you get back on schedule faster.
Go over your master schedule with the entire project team to brainstorm possible risks and create contingency plans. Some potential slowdowns include:
Shipping or delivery delays.
Equipment downtime.
Labor shortages.
Subcontractor schedule conflicts.
Severe weather.
5. Monitor and Document Progress
You'll need to track your progress daily to know if you're keeping pace with your schedule. Doing so lets you spot slowdowns and identify the cause more quickly, so it's easier to get back on track. While minor variations from the master schedule are natural, watch out for red flags that signal a significant delay.
It's also important to pay attention to how closely the time it took to complete individual tasks matches your initial estimates. Investigate the reason for the difference when you notice an area that took more or less time than anticipated. Depending on what you find, you may be able to create a more accurate estimate for your next project.
6. Reorganize Your Resources in Real Time
Unfortunately, you can't plan for everything, so you'll likely have to revise your schedule at some point. When that happens, it's crucial to be able to shuffle resources to avoid delays. You may need to:
Move workers to a different project: Your initial project plan for construction may have assigned more people to a task than necessary. If there isn't enough work for everyone, you'll need to reassign some to a different area while ensuring you still have enough people to complete the first task.
Reschedule subcontractors: If your project falls behind, subcontractors may not be able to complete their work on the dates you originally scheduled them. You'll need to work with them to reschedule them for a later time.
Bring in more equipment: If you're running ahead of schedule, you may not have the equipment you need yet. You may decide to reassign machines from another site or rent the necessary equipment to take advantage of the opportunity.
It's important to remember that one task or activity going over time will affect everything after it. As you progress, you'll need to adjust later tasks on your master schedule to ensure you can still meet the deadline. As you do so, be sure to communicate the changes to everyone on the project.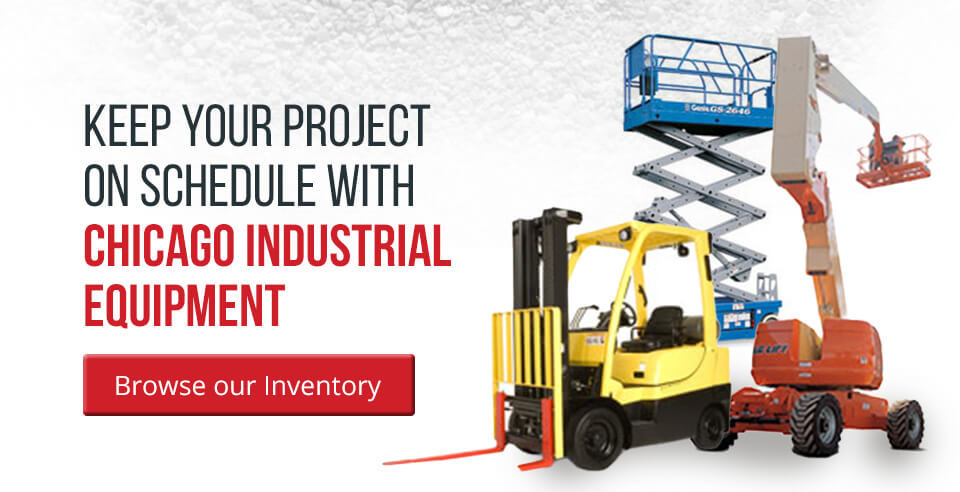 Keep Your Project on Schedule With Chicago Industrial Equipment
Whether you've just begun your construction project planning or need reliable equipment to get your project back on track, you'll find what you need with Chicago Industrial Equipment. We're the Midwest's largest forklift and aerial lift equipment dealer, with a 50,000-square-foot showroom and 10-acre yard that hold everything from booms to forklifts to power generation equipment.
Browse our available inventory online or reach out to a representative to learn more!