Advantages of Renting Industrial Equipment
Advantages of Renting Industrial Equipment
For any rental company, you will want to find in-demand assets that are both cost-effective and versatile. When it comes to industrial equipment rental vs. ownership, one option is not superior. In fact, a combination of both can benefit your business. Buying is valuable in some cases while renting also has its advantages, like working with top-of-the-line equipment and supporting specialty projects.
Chicago Industrial Equipment focuses on the reconditioning of used industrial equipment such as aerial platforms, forklifts and telescopic material handlers. When you're in need of construction equipment for re-rental, our reliable and dependable machines can support your customers' various applications.
Types of Industrial Equipment for Rent
You can rent construction equipment like skid steer loaders, excavators and backhoes, and power supplies like generators and aerial machines, including articulated booms and scissor lifts. Even specialty machines are available.
Whether you're renting a forklift or renting a scissor lift, the key to renting heavy equipment is to invest in a machine that matches your customers' applications, job site environments and the skills of their operators.
With re-rentals, you can support many industries, ranging from agriculture, automotive and construction to landscaping, logging, mining and waste.
The Benefits of Renting Industrial Equipment vs. Owning It
Thinking about renting or buying is a crucial part of assessing your investments and bottom line. Explore the following factors to ensure you are making the right decision for your rental business.
9 Considerations for Renting Construction Equipment
Consider these nine things when determining whether renting will best support your business:
Frequency of the demand for the equipment
Rental payments on an as-needed basis vs. high upfront cost
Transportation and storage
Cost of maintenance and repairs
Latest technology
Availability to support multiple short-term projects
Multi-functional machines for different applications
Life span of new equipment vs. rentals
Saved labor
It's important to look at your data like usage, hours wasted, financing options and other factors to help in the decision-making process. For example, the ongoing customer demand for your equipment can help determine whether renting or buying is the best solution for your rental business. Some equipment may make sense to buy while others are more beneficial to rent.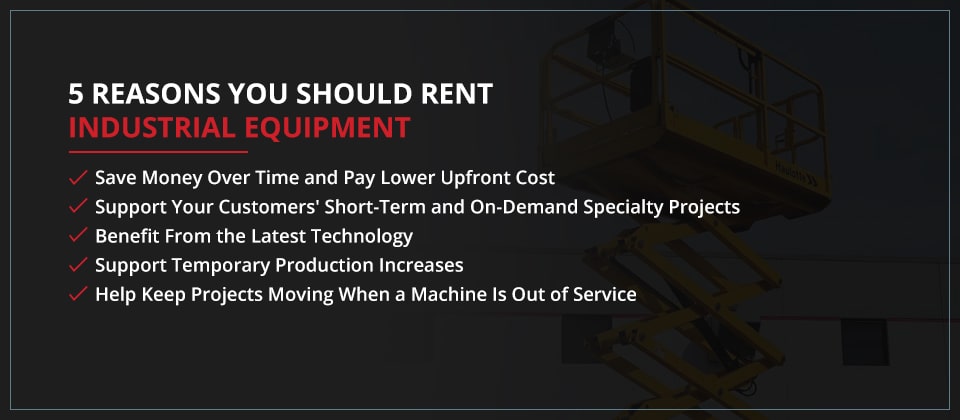 5 Reasons You Should Rent Industrial Equipment
Re-renting gives your business the luxuries of flexibility, the latest technology and other advantages that create a solid competitive advantage over your rivals who may be managing large fleets of equipment.
1. Save Money Over Time and Pay Lower Upfront Cost
Buying new or used equipment involves a high upfront cost that can place your business in a financial setback. Or, it could take several years for you to save the money to make one purchase. After the initial buying process, you then also have to consider maintenance, operator training and other cost factors.
In comparison, renting doesn't require a large sum of money upfront. Instead, you pay for only what you need, saving money in the long run. Before signing a lease, you will know the exact cost of the rental period. This helps you budget and allows you to allocate saved money to other parts of your rental business.
You also don't have to worry about equipment depreciation. When you purchase heavy machinery, you will eventually have to decide whether it's time to sell or continue repairing. It takes a lot of time, money and labor to manage a fleet of equipment, so you will have to weigh the depreciation of an engine compared to its life span and how many resources it requires to operate.
By renting, you also reduce or eliminate your disposal and resale costs, plus, rental expenses may be deductible come tax season.
2. Support Your Customers' Short-Term and On-Demand Specialty Projects
Renting gives you the flexibility to support your customers' specialty projects with the equipment you don't already have in your fleet. With industrial rentals ready for immediate access, you can provide your customers with the equipment to quickly expand and adapt without managing the machines themselves, which helps to control their project costs. By choosing to re-rent, you can support companies looking for machines that your rental business does not need for long-term purposes, and you can forego that investment.
Your rental business can turn to re-rent for the right machine sizes and capacities for your customers' applications so you are not stuck straining the equipment that you've invested your hard-earned money into if it isn't suited for the job. Renting is a fast solution where you can choose specific makes and models of equipment to support your customers' unique specifications.
3. Benefit From the Latest Technology
A common misconception is that rentals are old and beat up, but this idea couldn't be further from the truth. Heavy equipment rentals are often the most up-to-date machines, or they may be later models but with low operating hours. Renting gives you the opportunity to always work with the best equipment to keep you efficient and have a consistent competitive advantage each time.
There is also the "try before you buy" concept, which allows you to test and preview a piece of equipment and choose to buy it after the rental agreement. Seeing how a specific engine performs for your customers gives you insight and allows for operator feedback. This is a great tactic if you're interested in a machine but are unsure if it's the right addition to your fleet. The rent-to-purchase program also has different terms of pricing that place part of your rental cost into the upfront cost.
4. Support Temporary Production Increases
A benefit of re-renting you may have overlooked is the ability to support your customers' temporary production increases. When a construction business needs to balance and manage multiple projects at once, being able to rent equipment from your company will increase their production rates and ensure they have the right machines for each job.
Your customers will also be able to take on more contracts with moveable assets while you handle transportation and logistics while helping minimize their downtime. Supporting their changing needs means more revenue for your rental business.
5. Help Keep Projects Moving When a Machine Is Out of Service
Equipment failures can happen at any time, even with preventative maintenance. Unexpected hurdles like removing a machine from the job site because of repairs can immediately affect your customers' productivity. But by providing them with replacement machines on their sites, you can help them reduce re-work and keep operations moving forward.
Rentals can even support your business during equipment shortages to fill short-notice gaps. You can gain a massive advantage when you're able to maintain this flexibility. Renting grants you access to a full line of heavy machinery to fill your customers' immediate needs.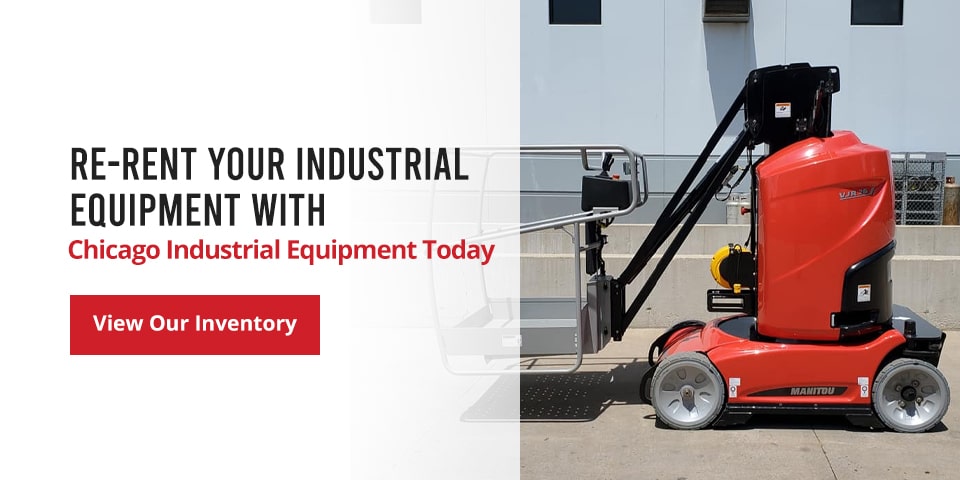 Re-Rent Your Industrial Equipment With Chicago Industrial Equipment Today
Chicago Industrial Equipment services and inspects each piece of industrial equipment before it leaves our shops. If your rental business is looking for machines for re-rental, we are here to support you with the highest quality equipment on the market. With a rigorous machine inspection in place and extremely competitive prices, you can feel confident when you turn to us.
Reach out to a Chicago Industrial representative to learn more about our construction equipment rentals and how to get started.