Pickers and Forklifts for Material Handling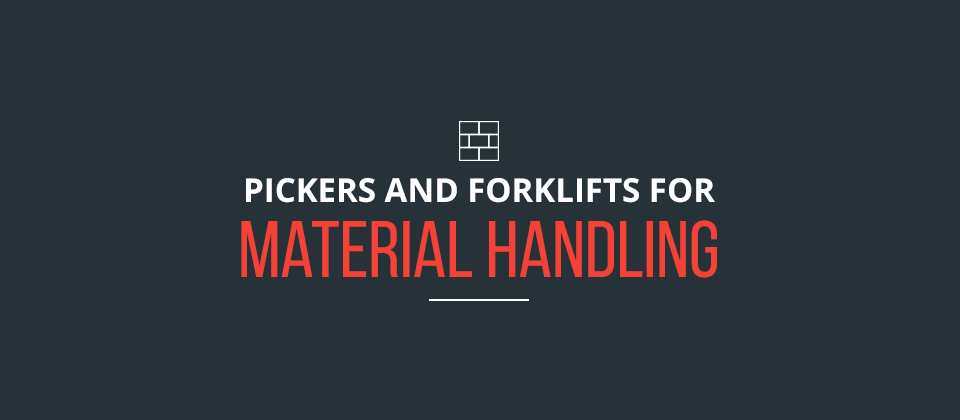 Pickers and Forklifts for Material Handling
Running a warehouse efficiently requires an understanding of what tools and equipment are available. Knowing your warehouse's needs is essential for selecting the proper material handling equipment that will optimize your workers' time, ensuring they work through projects quickly and accurately. How often do you fill orders? How many orders do you fill daily? What types of materials do you store?
The answers to these questions will help you decide which types of order pickers and forklift operators are right for your warehouse. Continue reading to review the various types of material handling equipment you can choose for your operations.
What Is Material Handling Equipment?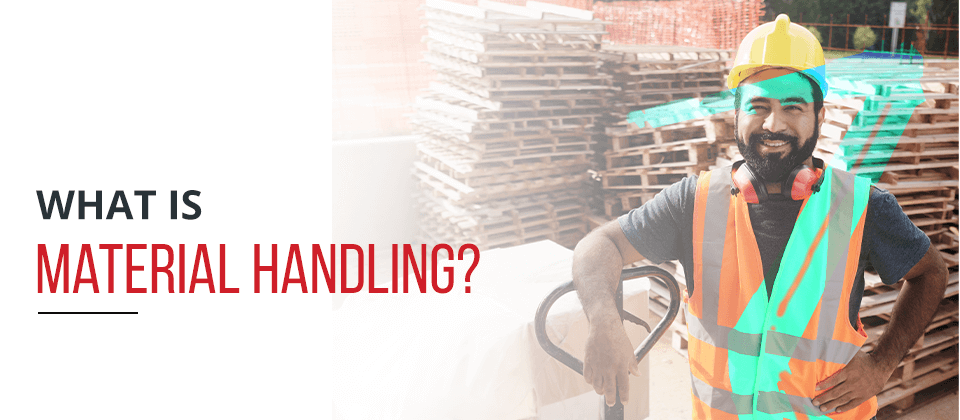 A warehouse handles materials by unloading, loading and moving goods throughout the facility. This process is usually aided or expedited by mechanical devices, referred to as material handling equipment. There are four main categories that material handling equipment can be in depending on the processes that the equipment completes.
1. Transport Equipment
Commonly referred to as industrial trucks, transport equipment aids in the process of moving goods and products from one location to another. This equipment refers to the machinery that moves materials longer distances, as opposed to within a single facility, like moving products between workplaces or a loading dock and a storage area.
2. Positioning Equipment
Unlike transport equipment, which relocates goods and products across locations, positioning equipment, or bulk material handling equipment, handles materials within and throughout a single location. This equipment optimizes the placement of materials to feed or orient them to the proper position for the subsequent processing. These machines help increase productivity, as workers avoid the manual labor of moving the materials themselves. Moreover, transport equipment limits the risk of worker injury, material damages and human error.
3. Load Formation Equipment
To move products efficiently, you load them onto or into equipment like pallets, bins and crates. This load formation equipment permits products to be moved more effectively, as the loading process is expedited by the ability to move more than one product at once.
4. Storage Equipment
This type of equipment holds materials until you're ready to move them. It's designed to keep products accessible while maximizing the space in which the materials are stored. Racks are usually favorable because of the opportunity to build upward. This allows the stored units to occupy space that's otherwise left empty, as it's inaccessible from the ground. The ability to optimize storage depends significantly on the type of items you need to hold and the space you have available, but building vertically is typically helpful.
Types of Material Handling Equipment — Industrial and Indoor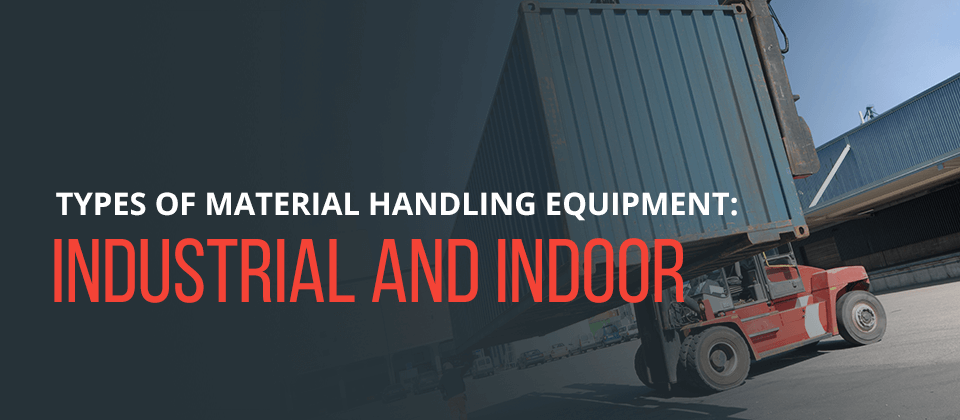 The category of material handling equipment covers a diverse set of tools, appliances and vehicles that are used in a warehouse. However, you can generally put all of these items in two categories — industrial and indoor.
Most often, industrial material handling equipment refers to machinery used in or around a warehouse, such as for transportation and positioning. It encompasses machinery like forklifts, order pickers and pallet jacks. All of these types of trucks increase the efficiency of a warehouse by reducing the amount of manual labor workers must perform. By reducing manual labor in the warehouse, you streamline processes and complete tasks much more quickly and with lower rates of injury.
There's also indoor material handling equipment, which many include racks for storage or conveyors for bulk materials. These materials similarly help workers move products more effectively through the warehouse. Some industrial handlers are best used indoors, whereas forklifts are made to perform outdoors on rough terrain.
What Are Order Pickers?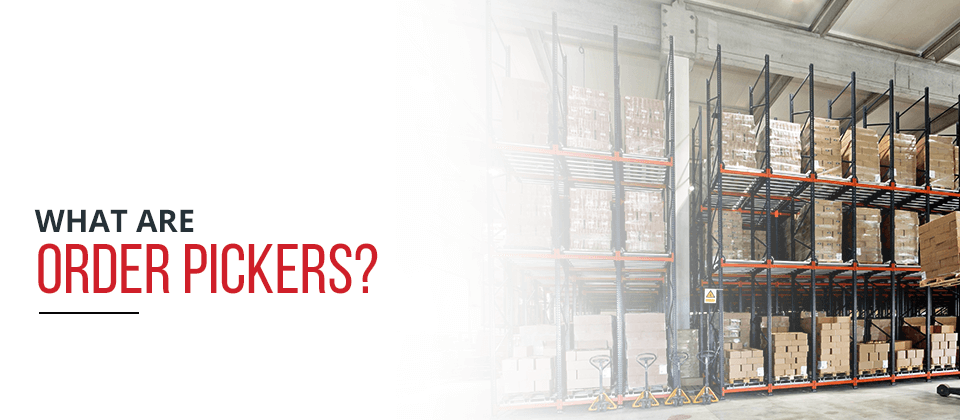 An order picker is a person or piece of equipment that picks and delivers materials required for filling orders from storage. This industrial machinery is an electric fill truck that allows order pickers to select and transport individual pieces of merchandise to fill orders.
Typically, order picker machines allow operators to reach materials stored above the second level of racking. These machines reach nearly 400 feet high, which allows warehouses to take advantage of the space overhead for storing. Additionally, they're designed to fit into narrow spaces, which means they're easy to maneuver. An order picker may be used instead of or in addition to pallet jacks, depending on the type of storage methods used.
Most order pickers have two rails where you can place merchandise. Sometimes, a pallet is placed on top of those two rails to help keep the merchandise steadily loaded. Between the two rails and the counterbalancing machinery is a platform where the operator stands. This individual wears a harness and other safety gear to reduce the risk of harm. From the platform, the operator moves individual boxes of storage units onto the picker, which they lower after picking the merchandise they need.
Types of Order Picking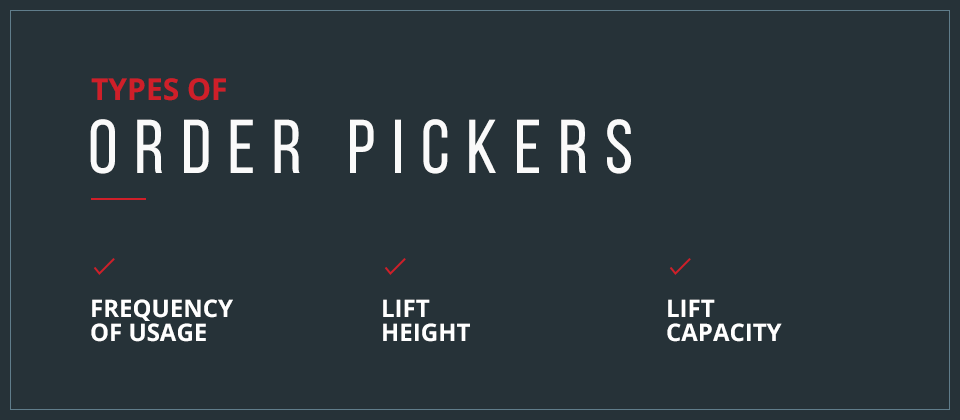 Depending on the kind of merchandise a warehouse manufactures and stores, you may prefer certain types of order pickers. The differences are in three main factors — the frequency of usage the picker can sustain, the height to which they lift and the lift capacity. Here are five main types of order picking that may be used in a warehouse, as well as the best type of order picker machine to be used for each method.
1. Discrete Picking
Many smaller warehouses use the most basic and straightforward method of discrete picking. With this method, order pickers collect one whole order at a time. Because discrete picking requires more movement around the storage area, especially if the order includes a diverse set of materials, larger warehouses use other methods.
A large picker may be unnecessary for storage areas with more narrow areas and lighter materials, so it's best to use smaller order picker forklifts in this case.
2. Batch Picking
This is the method of retrieving multiple orders at one time. It reduces the frequency at which a picker must travel between storage and the order's final destination, working best when there are multiple orders with the same stock keeping unit (SKU).
Because batch picking requires collecting more materials at one time, a medium order picker lift may be best. While discrete picking has smaller amounts of materials to be moved at once, batch picking aims to optimize an operator's time by allowing them to gather more in one trip. A small picker may not have the lift capacity for multiple orders. If you use this method, determine which picker to use by considering what kind of products your warehouse stores and how much the average order weighs.
3. Cluster Picking
This type of picking also aims to reduce the amount of traveling a worker must do to fill orders. With cluster picking, workers compile different orders into bins or containers. It's best for warehouses that receive multiple orders regularly, requiring careful scheduling of picking and assigning clusters to workers to avoid overlap of collection.
4. Wave Picking
Similar to discrete picking, wave picking requires workers to collect materials for a single order at a time, making it effective for warehouses that receive many high-volume orders. However, workers are scheduled in waves or sets based on various factors, such as delivery date, customer location and order frequency. Then, they gather the materials and send them off for sorting and consolidation for individual shipments.
Because wave picking is best used for high-volume orders, larger order pickers are best for this method — smaller order picker lifts may not have the lift capacity for the larger orders that must be collected in this picking method.
5. Zone Picking
Finally, zone picking requires warehouses to divide their storage areas into various zones and assign works to specific areas. Rather than workers traveling through all of the storage areas to fulfill orders, they stay within their zone and gather the SKUs in their section to be sent off for processing. This method reduces the amount of time workers spend traveling around the storage area, as the space they must move around is condensed.
What Are Pallet Jacks?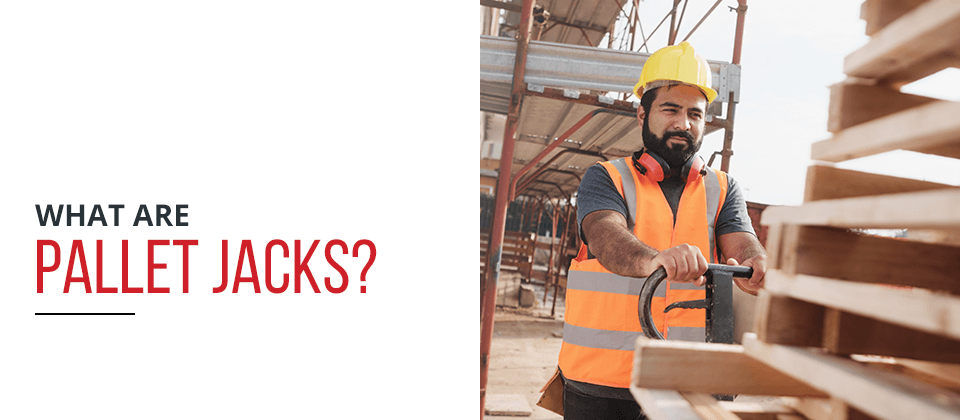 These are the most common tool used to lift and move pallets within a warehouse. Many pallet jacks are sometimes also considered order pickers, as they're material handlers that transport merchandise from storage to be processed for the manufacturer.
While many people use the terms pallet jack and pallet truck interchangeably, one major distinction between the two is that pallet jacks are automatically operated, whereas pallet trucks are usually manually operated. Specifically, pallet trucks are the most basic kind of pallet handlers, requiring the operator to pump the jack in order to lift the materials.
Some people use the term pallet truck to refer to pickers that are industrial forklifts. In this case, the pallet truck is much larger and can carry greater amounts of materials at a time. These pallet trucks may also be used outside of a warehouse or for longer distances.
Regardless of the products manufactured or stored in a warehouse, it's necessary to transport them out of storage. With pallet jacks, you can accomplish those tasks while saving storage space, since you can easily stack them. As a result, some warehouses may combine the use of order pickers and pallet jacks to have the ability to raise upward to reach the higher materials.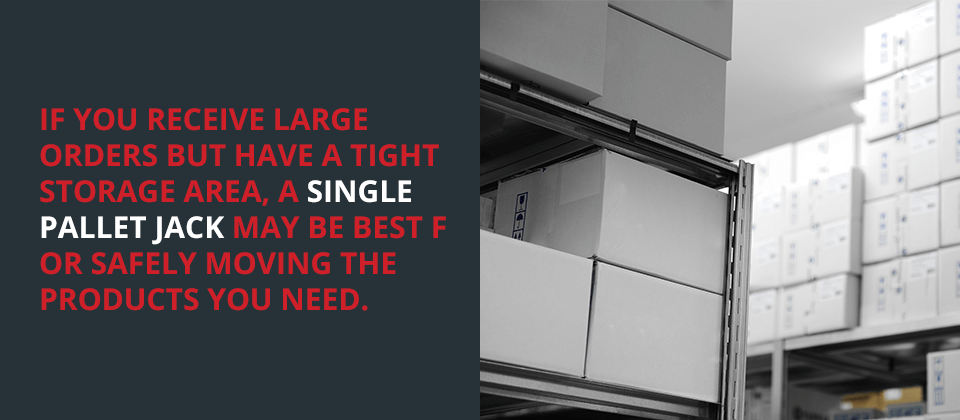 Types of Material Handling Jacks
Finding the right pallet jack for your needs will make moving products much more efficient. While a single pallet jack has the ability to move one pallet at a time, a double jack can move two. For warehouses with a higher volume of large orders, a double pallet jack could be extremely useful. However, a single pallet jack also has more maneuverability that allows it to move around tight and narrow areas. If you receive large orders but have a tight storage area, a single pallet jack may be best for safely moving the products you need.
Because pallet jacks are the most utilized material handling equipment in nearly all warehouses, they're made in various styles to allow you to select one that best fits your needs. Here are the three most common types of material handling jacks.
1. Walkie Pallet Jack
The walkie pallet jack, also known as an electric walk behind, allows the operator to follow behind or beside the jack as it moves throughout the warehouse. This type of jack is electric, and its power comes from a battery located within the jack. The electric walk behind jack is about twice the size of a pallet truck, which means its lifting capacity is also doubled. These jacks come in smaller sizes that are more maneuverable in narrow spaces.
The walkie pallet jack offers significant advantages over a pallet truck, as there's limited manual labor required to operate it. Instead of pumping the jack to lift the materials, forklift operators must simply press a button. However, because the jack is battery-operated, you must charge it regularly, so it requires more maintenance.
These jacks also operate at low speeds. This element increases safety for operators and products, as it minimizes the risk of collisions. As a result, they're easy for the operator to keep up with as they move through the warehouse.
2. Rider Pallet Jack
The rider pallet jack is similar to the electric walk behind, except the operator sits on a platform on the jack. The rider pallet jack is simple to operate, as there are only a few controls. Additionally, forklift operators aren't required to follow the jack through the warehouse, so they're better for traveling longer distances on smooth terrains.
These pallet jacks tend to be heavier, which means they can carry larger loads. However, they can cause more damage upon collision. Moreover, the operator is less protected by the jack itself, which produces hazards. Often larger warehouses use rider pallet jacks, especially Toyota pallet jacks, for material handling. Raymond pallet jacks also come in a variety of models, including the rider pallet jack.
3. Walkie Rider Pallet Jack
A walkie rider pallet jack is electrically powered with a platform for the operator to stand on while operating the jack. The platform is integrated between the lifted materials and the front-facing operation tools. The standing pallet jack allows the operator to move easily around the warehouse without the materials impeding their vision during transport.
Forklifts and Other Lifts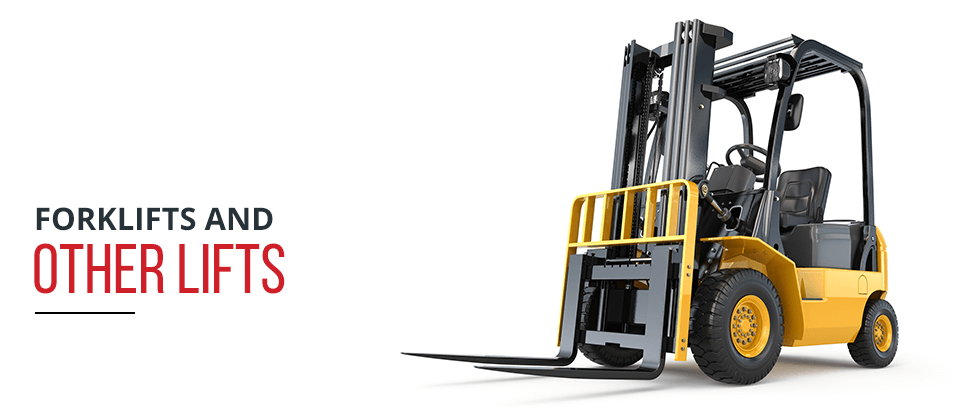 Because of the multiple uses for forklifts, they come in many shapes and sizes. As you consider your forklift options, there are two main questions you should be asking yourself to make the best decision — how much does the forklift weigh, and what's the required lift capacity? These two questions go hand in hand, as the weight a forklift can handle depends almost entirely on the physical makeup of the forklift itself.
Various forklifts have their own capabilities for moving materials efficiently and safely — forklifts come in a wide range of weights, and the majority of a forklift's weight comes from the rear and works as a counterbalance. If the counterbalancing weight of the forklift is less than the weight of the materials you move in the front, you risk serious injury to the operator and damage to the machinery and products.
A small forklift will only be able to safely transport a load that weighs less than the forklift itself. However, they have their advantages, as smaller forklifts are more maneuverable in narrow spaces to move products that would otherwise only be accessible for manual transportation. These efforts take substantially more time than moving with machinery.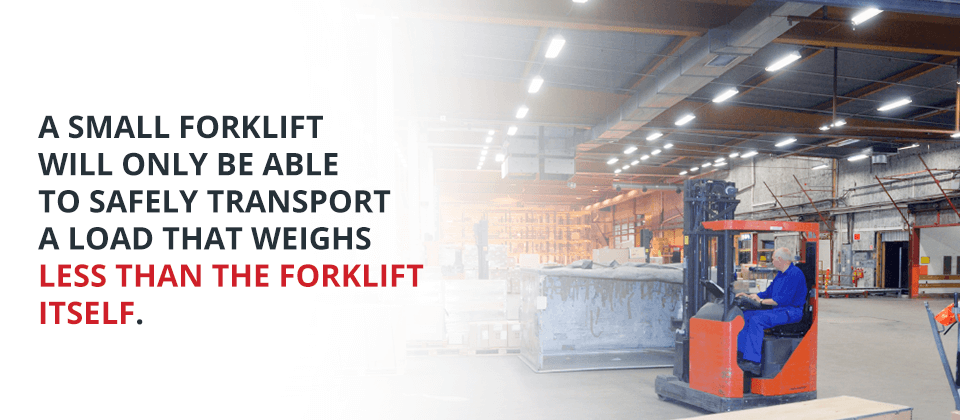 1. Reach Forklift
Called reach forklifts or reach trucks, this type of forklift is uniquely designed to reach into the storage shelving. This allows them to easily collect and transport products from storage and prepare them for distribution. For narrow storage areas, a smaller reach forklift may be better equipped for your needs. Because the reach forklift can reach into the storage area and extract pieces, you save money by storing more in the racking. These forklifts are generally available in single and double reach configurations.
2. Standing Forklift
These forklifts are designed to allow the operator to get on and off frequently and easily. There's no seat belt or parking brake, which facilitates movement on and off the truck. Ultimately, standing forklifts require less space than regular sit-down forklifts, making them far more maneuverable around a warehouse. These forklifts are optimal for situations in which the operator must frequently get in and out of the forklift to access narrow aisles to retrieve products.
Generally, standing forklifts require forklift operators to be more alert than their sitting counterparts, but having to stand requires a sacrifice in comfort. Moreover, if an operator is used to a sitting forklift, the controls for a standing truck may take time to learn.
The RC Series forklift is a stand-up forklift that aims to help operators avoid lift truck instability. The counterweight is exceptionally high for its size, which allows it to safely lift larger loads despite its ability to maneuver in narrow spaces. The Raymond Stand Up Forklift is also very easily maneuverable with similar specifications to the RC Series. These standing forklifts ensure safety for their operators and a commitment to high performance.
3. Order Picker Forklift
Because order picker machines are designed to be narrow and maneuverable, they're generally smaller than other forklifts. A standard order picker forklift allows the operator to move up and down, accessing various heights in a storage area to hand-pick materials from racks that may be high off the ground. These forklifts may also have forks that allow the operator to lift a pallet all at once, rather than moving individual pieces.
4. Rough Terrain Forklift
A rough terrain forklift is significantly larger than the lift trucks used inside a warehouse. This is partly due to the fact that materials that must be moved in outdoor settings tend to be much larger. However, unlike indoor machinery, outdoor forklifts — especially those designed for rough terrains — must be able to maneuver uneven ground.
These forklifts generally have pneumatic tires, unlike the cushion forklift tires for machinery used indoors on even ground. The pneumatic forklift tires offer a strong grip on uneven terrain.
Forklifts vs. Turret Trucks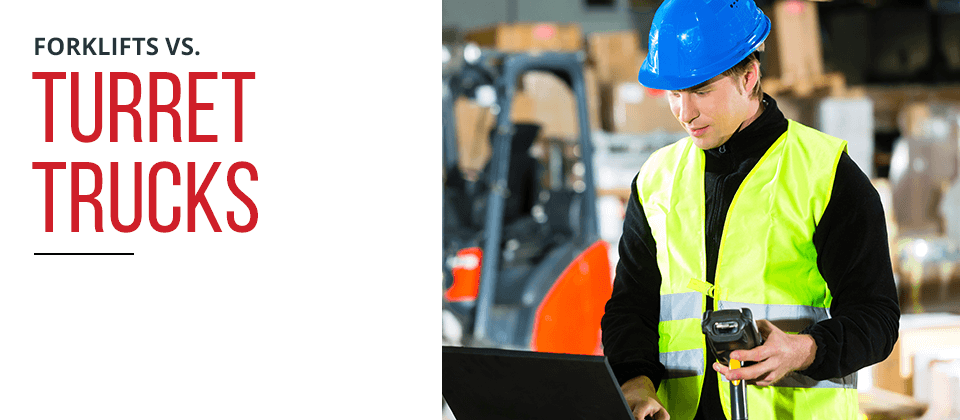 These two options have very similar operations and capabilities. However, there's one major difference — turret trucks are specifically designed to fit into very narrow aisles (VNA). As a result, many people refer to turret tucks at VNA forklifts. VNA forklifts have a turret on them, which is a piece on the truck that can turn 180 degrees. With forks located on the turret, the ability to rotate allows forklift operators to access materials on both sides of the truck.
While turret trucks have a variety of uses, the most common is order picking. Because they can maneuver in tight spaces, they're optimal for collecting and moving pallets. Additionally, turret trucks can move at high speeds, which ensures that the pallets are moved quickly across the warehouse.
Other kinds of forklifts are unable to access spaces that are small or narrow. VNA forklifts can help warehouses save space, especially in storage, as materials can be packed closer together without risking efficiency.
Equip Your Warehouse With Equipment From Chicago Industrial
Obtain the material handling equipment best suited for your warehouse from Chicago Industrial. From scissor lifts to forklifts to order pickers, we allow you to rent or buy new and used equipment that helps increase the efficiency of your warehouse. As the largest aerial lift equipment and forklift dealer in the Midwest, you can count on quality services and products from Chicago Industrial.
Learn about how we offer competitive pricing and financing options. If you're interested in our services, reach out to us through our contact form or by calling directly at 815-744-8811.