Scissor Lift Buying Guide

A scissor lift is a safe, productive way to work at elevated heights, and it plays an important role in a wide variety of industries. If you're planning to buy one of these aerial work platforms, you'll need to evaluate a number of factors, including your specific application. When browsing used models, you'll also want to consider their condition and service history. We'll cover all these pointers and more in this scissor lift buying guide.
Understand Your Budget and Needs
When buying a scissor lift, consider what you need and how much you can afford. To determine the best type of lift for your business, you'll need to think through the following decision areas:
1. Electric or Rough Terrain
Most scissors lifts fall into one of two categories, electric or rough terrain:
Electric: Electric scissor lifts are used primarily indoors. Because they are battery-powered, they don't give off any hazardous emissions. Most lower-height scissor lifts are electric, and they are well suited for smooth surfaces. Some models even come with non-marking tires.
Rough terrain: Rough terrain scissor lifts tend to be gas or diesel-powered and can handle terrain that is rough, uneven or muddy. They tend to reach higher heights and their platforms are usually larger than those of electric scissor lifts.
2. Vertical Reach
Vertical reach varies widely depending on the lift model, so it is one of the most important considerations when shopping for a lift. Scissor lifts with 19-foot capacity are commonly used since their reach is enough to access 10-foot ceilings and they can fit through standard doorways — something larger models usually can't do.
A 30-foot lift is commonly used for work around telephone lines and power poles, and 50-foot or 60-foot lifts allow you to access the tops of very tall trees and exteriors of six-story buildings. Lifts with vertical reaches of 60 feet and 70 feet are available for high utility work.
3. Personnel Capacity and Load
You must also consider the personnel limit and weight capacity. You cannot add an additional worker to your platform, even if you're under the total weight limit. The capacities of scissor lifts vary greatly. Whereas a 10-foot electric model may not be rated for more than 750 pounds and two people, many 50-foot diesel models can lift 1,500 pounds and six people.
4. Size of Platform
The size of the platform is important for both safety and efficiency. A wider platform allows for better access and less repositioning of the lift over the course of the job. At the same time, you must make sure the lift can fit into the space available.
5. Terrain
If your terrain is sloped or uneven, you should choose a four-wheel drive model, which is common for rough-terrain scissor lifts and found on certain electric models as well.
6. Ground Clearance
If the terrain you're working on is exceptionally rough or you must go over debris, you may need a lift with more ground clearance. This specification is rarely listed, so you should ask your sales representative about specific models you're interested in.
7. Cost
You can make the most out of the cost of a scissor lift by looking for equipment with just enough features for your work. If you just want to access the top of the 14-foot ceilings in your building, a 19-foot electric model is all you need rather than a 30-foot rough terrain model, which is more expensive.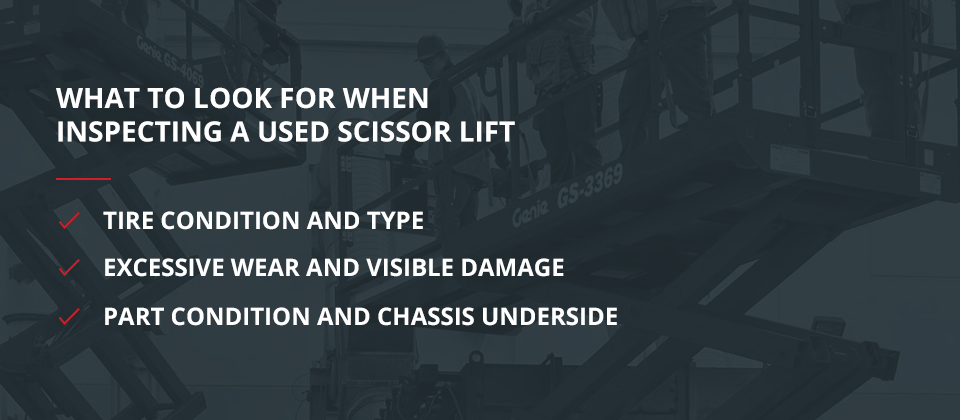 What to Look for When Inspecting a Used Scissor Lift
If you're buying a used scissor lift, you'll need to inspect its condition. Here's what to pay special attention to during your scissor lift inspection:
1. Tire Condition and Type
The treads of the tires must be in good condition. If not, they will need to be replaced, which can be expensive. Make sure to check the brand and examine the casing and tread for cuts, debris and peeling.
2. Excessive Wear and Visible Damage
If there are immediate signs of excessive wear and visible damage, it could signal many hours of use and ill-maintained equipment — which may warrant expensive maintenance costs down the road. Look for machines with minimal visible damage that appear to have been well maintained to set yourself up for success.
3. Part Condition and Chassis Underside
While the tires are particularly important, you should also examine all other parts, including the undercarriage. Check whether the undercarriage is OEM or aftermarket. OEM undercarriages are preferable, as they tend to have more durability and longevity. Link assemblies and bushings on OEM undercarriages are usually thicker and more rigid. You should also try to find an operator inspection book, which some operators use to document operational issues.
If the machine you're considering was repainted, try to find out what was repainted and why. In some cases, the owner may have repainted their machine to hide something, but in other cases, it may have been to maintain the machine's appearance. The paint job's quality often helps to figure out the motive.
Does the Age of the Lift Matter?
The age, or model year, of the scissor lift is largely irrelevant. After all, it doesn't indicate how much the machine has been used. To determine its use, you can look at things like the tires, maintenance history and the hours. Manufacturers sometimes offer warranties for machines under 12 months old. This offers peace of mind that you can return to the source to get assistance if something goes wrong, if that's what you're looking for.
Do Scissor Lift Hours Matter?
As you might expect, machines with fewer operating hours tend to be more desirable than those with more hours. Generally, a machine with fewer hours means lower maintenance costs. However, you shouldn't rule out a machine simply because it has more hours. If a high-hour machine is well maintained, has a clean paint job and an OEM undercarriage, you should consider it, as it can likely do what you need it to at a more affordable price.
Other Scissor Lift Factors to Consider
When shopping for a used scissor lift, pay special attention to its specifications, the applications it's meant for and its service history:
1. Specifications
Scissor lifts contain many specifications, some of which may be more important to you than others. Look for the following when considering a scissor lift:
Environment: Is the lift meant for indoor or outdoor use?
Weight limit: What is the maximum weight capacity of the scissor lift? Can it lift what you need it to?
Height limits:

 

Can the unit reach the maximum and minimum heights needed for your project?
2. Application
You should also consider exactly what you'll be using your scissor lift for, including:
Terrain: If the scissor lift is for outside use, how bumpy will the terrain be?
Temperature: Will the temperature in the environment be controlled, or will the weather be a factor?
Frequency of use: Will you run the scissor lift occasionally or frequently?
Distance: How much will the lift have to travel per day?
3. Service History
For machines with many hours, request to get a service history. You can also get the serial number and your dealer can find out which parts have been replaced or serviced. You can even determine whether the machine has been serviced with a certified dealer as part of a preventive maintenance program. If it turns out most of the wear components have not been replaced, you should probably budget for repairs later on. If the machine has been regularly serviced, it probably indicates the owner cared for it well.

Choose a Seller You Can Trust
At Chicago Industrial Equipment, we sell high-quality scissor lifts for a variety of applications, including leading brands like Genie and JLG. Based in Rockdale, Illinois, just a few miles from Highway 55, we are close to major hubs and trucking lanes, which allows us to get some of the most competitive shipping rates. Call 815-744-8811 or fill out our online form today, and one of our knowledgeable representatives will be happy to assist you.