Forklift Maintenance Checklist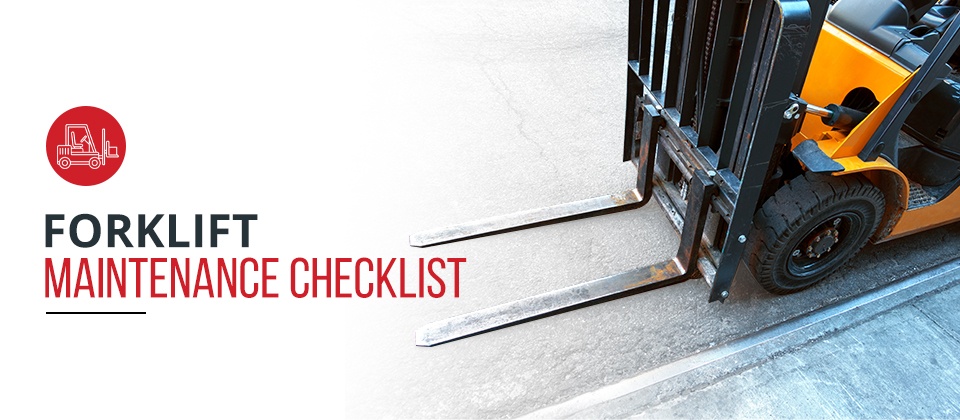 To keep your forklift running smoothly, you need to service it regularly, including cleaning, inspections and preventative repairs. With regular forklift maintenance, your machine can provide years of safe, reliable service. By contrast, neglecting these maintenance tasks will lead to your equipment breaking down more frequently, putting your workers at risk and disrupting your operations.
By adopting the maintenance practices in these checklists, you will minimize accidents and make your investment last as long as possible.
Check the Manufacturer Schedule
When maintaining your forklift, we recommend that you refer to your manufacturer's schedule. Stay on top of spark plug changes, oil changes, filter changes and brake checks. By doing this, you'll avoid costly repairs down the road and ensure the safety of your workers.
OSHA Regulations and Recommendations
Most warehouses are familiar with several critical forklift preventative maintenance protocols because the Occupational Safety and Health Administration (OSHA) requires them to perform daily inspections.
Below are some of OSHA's main requirements regarding daily forklift inspections:
Daily inspections: Forklifts must be inspected at least once per day before they are placed in service.
Inspections between shifts: Forklifts used round-the-clock must be inspected following each shift.
Two-part inspections: The operator must perform a visual check of the forklift with the engine off. Then, they must conduct an operational inspection with the engine running.
They must pass the inspection to operate: If the inspections reveal that the forklift might not be safe to operate, the forklift must not be operated.
Creating a Forklift Maintenance Schedule
Maintenance is a lot easier when you have a checklist. Below, we have put together three different forklift maintenance checklists — one for daily maintenance checks, one for monthly maintenance and one for annual maintenance.
Daily Forklift Checklist
While performing the daily inspection of your forklift, make sure of the following. We'll start with things to check while the engine is off:
Are the tires inflated and free of excessive wear or damage?
Are the lug nuts tight?
Are the axles and other moving components clear?
Are the mast and forks not cracked, worn, bent or excessively rusty?
Are the mast lift chains and rollers in good condition?
Are the hydraulic lines free of damage? Are the fluid levels good?
Is the operator's manual on board?
Are all visible cables and hoses free of damage?
Is the data plate legible and up to date?
If the forklift has a seat belt, does it work?
After completing the above tasks, turn the engine on and perform the following operational checks:
Do the lights, horn and other safety features work properly?
Are the lift cylinders in good condition? Are they free of scars?
Move the forklift the length of a truck. Does it operate smoothly?
Do the parking brake, brakes, accelerator and turn signals work properly?
Is the steering smooth and responsive?
Can you raise the forks up and down fully?
Are the cables and hoses wrapped around the guide rails seamlessly?
Test attachments. Are they undamaged, secure and operational?
Does tilt control operate smoothly without chatter?
Are the instruments and gauges working?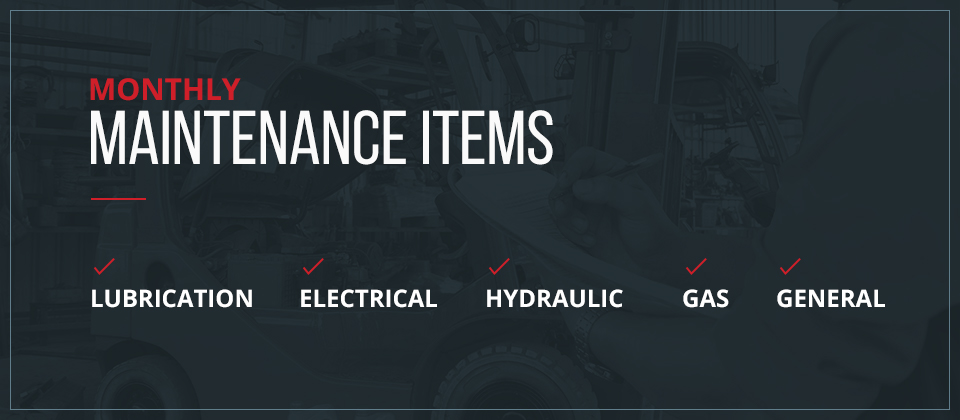 Monthly Maintenance Items
The best monthly forklift maintenance practices adhere to specific standards in the industry and closely align with the manufacturer's recommendations. These practices are considerably more involved and may require specialized diagnostic equipment. For this reason, most warehouses opt to contract with their equipment provider to conduct the required maintenance.
Monthly maintenance generally includes a wide variety of tasks that involves every aspect of the machinery, including:
1. Lubrication
Lubrication is an essential part of good forklift maintenance and helps ensure that your forklift will continue to operate smoothly. Lubrication-related tasks include:
Lubricating the chassis-mast attachment
Changing the engine air filter
Cleaning all the breathers
Changing the engine oil and filter
Checking fluid levels
Cleaning and coating the battery terminals
2. Electrical
You'll also need to make sure that all of the following electrical components are in working order:
Switches
Contact tips
Drive control system
Time delay
All motors, including hoist, drive and steer
Commutator
Blowout
Brushes
Battery connectors
Springs
3. Hydraulic
When it comes to your forklift's hydraulic system, you'll need to check the following thoroughly:
Cylinders
Pumps
Valves
All hoses, tubes and fittings
4. Gas
Gas-related components that need inspection during the monthly maintenance include:
Radiator
Belts
Spark plugs
Muffler
Distribution point
Instruments
Ignition switch
Instruments
Hoses for LPG forklifts
Engine accessories
Fuel filter
5. General
Some general components that also need checking include:
Steering
Brake adjustment
Parking brake
Horn
Nuts, bolts and cotter pins
Lights and alarms
Tires
Battery water levels
One other thing to keep in mind is that the environment where you operate your forklifts will also affect how much monthly maintenance is required. For instance, machines working on a rugged fish pier will likely experience more wear than one operating in a pharmaceutical company's clean warehouse.
Annual Forklift Maintenance
Protocols for annual maintenance follow manufacturer recommendations closely and are generally also tied to warranty protections.
Consider a year checkup an excellent opportunity for an experienced, certified technician to inspect your equipment thoroughly for any repairs that may be necessary for durability and optimal performance.
Benefits of Preventative Maintenance
Routine forklift maintenance provides the following benefits:
Improved productivity: A forklift in top condition runs more efficiently and can move more loads, which helps your work schedule. Regular servicing of your forklift also reduces the chance of a breakdown, which can majorly disrupt your business.
Cost savings: With preventative maintenance, the money you'll spend on repairs will decrease dramatically.
Better safety: Preventative maintenance helps to prevent onsite equipment failure that puts your workers at risk.
Longer equipment lifespan: With preventative maintenance, your equipment will last longer — meaning you won't have to purchase another one anytime soon.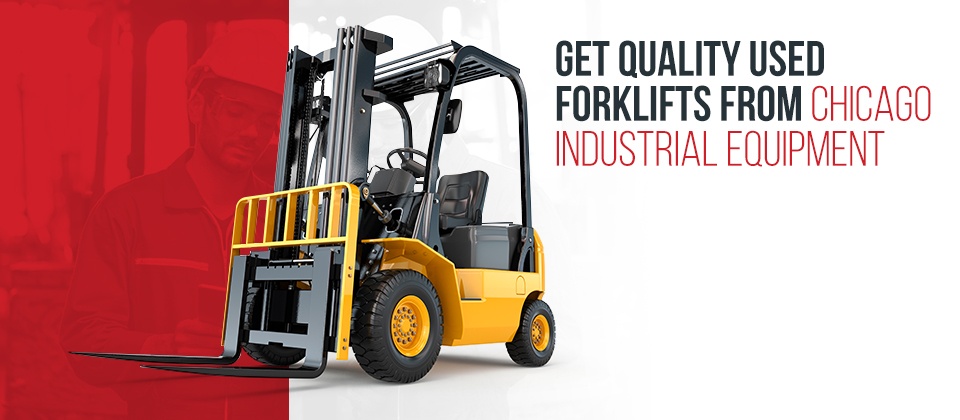 Get Quality Used Forklifts From Chicago Industrial Equipment
At Chicago Industrial Equipment, we've been leaders in the forklift and aerial industry for the past four decades. It is our aim to provide high-quality machines at extremely competitive prices and sell and rent a wide variety of equipment, including forklifts and booms. Our machines are all stocked in our 50,000 square-foot showrooms or our 10-acre yard, which makes us the Midwest's biggest forklift and aerial lift equipment dealer.
Check out our extensive selection of quality used forklifts on our site. We carry a wide range of types, makes and models, including industry-leading brands like Genie. You should have no trouble finding the perfect one for your application. If you have any questions about our products, don't hesitate to reach out to us using our form.