Genie Z-40 Boom Lift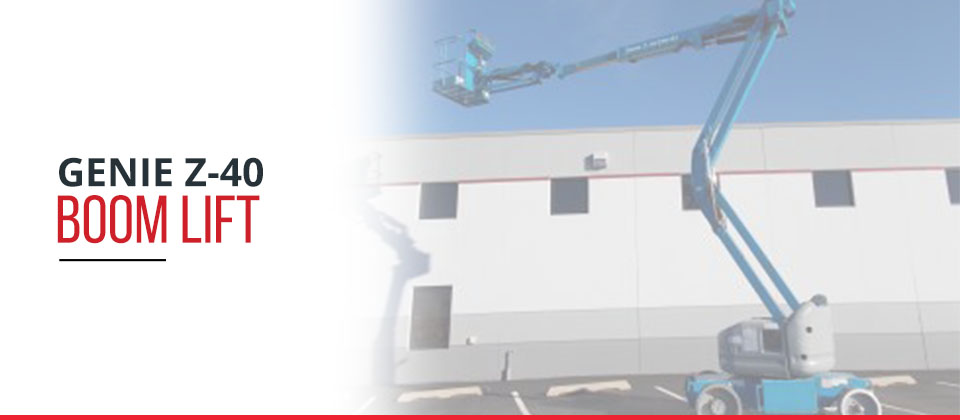 Genie Z-40 Boom Lift
Like all Genie products, the Z-40 boom lift puts customers like you at the forefront of its design. Genie focuses on delivering superior quality by pursuing excellence in everything they do and never compromising quality for quick conveniences. In turn, the Z-40 results from listening to customers' needs. This articulating aerial lift can reach up and over objects to deliver incredible access for different industrial applications.
Aerial work platforms are safer than other alternatives like scaffolding or ladders to help you and your workers remain productive. Chicago Industrial Equipment focuses 100% of our facilities, manpower and inventory on the reconditioning and selling of used aerial platforms and forklifts like boom lifts, scissor lifts, telehandlers, straight mast forklifts and more. With our efficient solutions, you know we have your back.
What Makes the Genie Z-40 So Popular?
Genie is a company with a rich history and an everlasting legacy that people have come to trust since its start in 1966. By the year 1984, the Genie Z-lift series drove the company in a brand-new direction. These lifts were more versatile and flexible, large and rugged to support different environments.
The Z-series was also the first of its kind to rely more on hydraulics — in the beginning, Genie focused only on portable lifts. These newer Z-lift booms were self-propelled, opening the technology up for new opportunities, industries and applications.
The fuel-electric Genie series debuted in 2016, which introduced a hybrid system for booms. It was the next generation of design in how the engine-powered generator charged the machine's batteries. These Genie Fuel Electric (FE) booms are more adaptable outdoors compared to diesel-powered machines, and when they are in full electric mode instead of hybrid, they serve as quiet aerial lifts with emission-free operation.
Combining all these capabilities, the Genie Z-40 is popular because of its revolutionary articulating design and electric engine.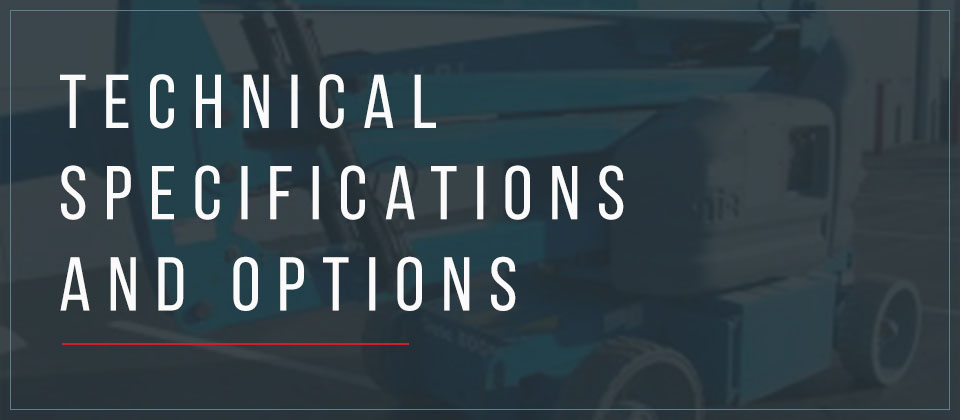 Technical Specifications and Options
The Z-40 is an electric boom lift featuring a compact structure and chassis that can work in narrow aisles. With an electric engine, it's emission-free and quiet, making it a great solution for indoor work compared to gas or diesel engines. It can reach platform heights of 46 feet and 5 inches, with a horizontal reach of 22 feet and 8 inches. With the riser extender, the Z-40 has a maximum up-and-over clearance of 21 feet and 3 inches.
One unique specification of the Genie Z-40 aerial lift is its articulating boom. The boom is bendable, and with an articulating 4-foot jib, the lift gains a 128-degree range of motion. This feature helps position you and your workers accurately no matter the application or job site.
Several other benefits of the Z-40 include the following:
Can work close to buildings
Easily operates around obstacles
Can access overhead work
Can drive through double doorways
Operates with multi-function controls
This Genie Z-series aerial lift has a minimal tail swing and turning radius with speeds of 4.5 mph and a 30% gradeability. It also features a self-leveling platform, an alternating current (AC) drive system and a 180-degree rotating platform that can hold up to 500 pounds.
Articulating and Knuckle Boom Lifts vs. Telescopic Lifts
While both an articulating boom lift and telescopic lift can bring workers, materials and tools up to varying heights, there are a few core differences between the two. Depending on the projects you have at hand, choosing the right type of aerial lift will keep your operations efficient and your workers safe.
Articulating and Knuckle Boom Lifts
A boom lift, or knuckle boom, is similar to the knuckles on your fingers and hands because of its joints. It's an articulating aerial work platform with two boom sections that move independently of each other. The boom can extend and bend, while other types of lifts extend only upward and/or sideways. The articulating lift can maneuver both horizontally and vertically.
Also known as up-and-over booms, these machines help you gain access to those hard-to-reach places that are often over obstacles or hazards. These lifts are best for areas requiring narrow and over-the-top access, especially when indoors because of their electric power. Even in congested work zones, the knuckle boom's compact design grants you easy access. Most articulating booms also have a jib, which is an additional articulation point to help operators change directions.
Genie Z-series machines like the Z-40 also have zero tail swing. This means the boom can rotate without the turntable extending past the chassis. While the Z-40 is ideal for indoor use, it can also get you through rough outdoor terrain.
Telescopic Lifts
In comparison, telescopic booms are straighter with less of a bend. Also known as straight booms, telescopic machines deliver exceptional horizontal reach. This type of reach is particularly helpful during bridgework and roadwork and construction and painting applications — or when you and your team need to reach work areas blocked by terrain. When you require maximum horizontal reach as well as height, telescopic booms are your best bet.
Z-40 Use Cases
The Genie Z-40 articulating boom lift is your go-to solution when working in tight spaces, reaching over barriers and operating indoors.
This type of aerial lift can navigate narrow aisles and turn tight corners whether you work in a warehouse or outdoors in a work zone with other heavy machinery nearby. The Z-40 can help you maneuver around hazards if necessary.
When you need to reach over barriers, most other aerial lift types will do no good. With its articulating boom, the Genie Z-40 can reach up and over obstacles to access points that would otherwise be inaccessible. This unique design gives you greater versatility and more entry points to areas around your work zone.
If your operations are mainly indoors, the Z-40 is compatible with indoor tires and emits zero emissions for safer operations. This knuckle boom lift is quiet for inside use, like manufacturing work, warehouses, painting and electrical wiring, but it can also travel over rough terrains to support industries like forestry, oil, construction, roofing, mining, piping and roadwork. It can also handle sites like airports, sports arenas and shopping centers.
An articulating Z-40 boom can even mount onto a truck, railcar or ship. The aerial lift takes up minimal space, allowing you to transport additional materials in the truck bed. When you're not using the boom, it folds and stows in the back to easily move from one project to the next. Knuckle boom crane trucks can lift heavier materials while operating in tighter spaces because of their articulated design.
The Z-40 also requires less vertical clearance while loading and unloading. Genie Z-40 articulating boom lifts deliver versatile benefits and usages no matter the industry or environment.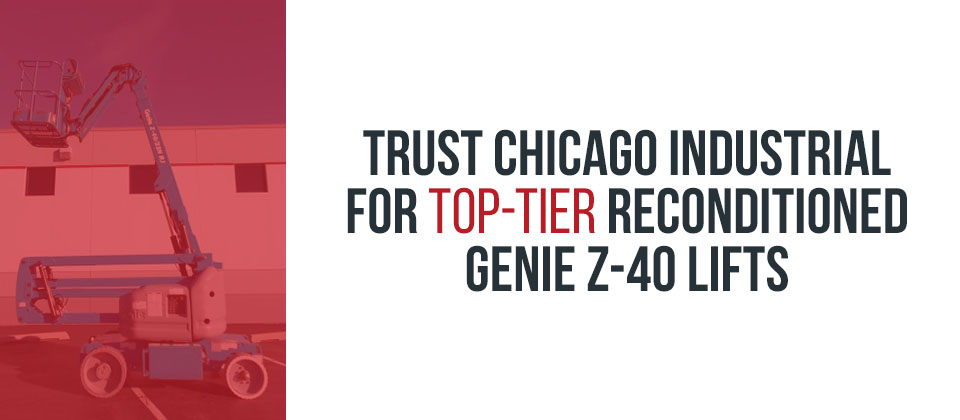 Trust Chicago Industrial for Top-Tier Reconditioned Genie Z-40 Lifts
Chicago Industrial services and inspects each aerial lift before it leaves one of our two shipping locations in Chambersburg, PA, or San Diego, CA. Each lift goes through a rigorous machine inspection to ensure you're receiving efficient, productive and safe equipment to support your projects. We have an inventory of over 500 dependable machines from reputable manufacturers like Genie, including the Genie Z-40 articulating boom lift.
Reach out to a Chicago Industrial Equipment expert to learn more about our solutions, or view our inventory of boom lifts to see which Z-40 Genie lift best suits your applications. You can trust us for all your lift equipment needs.
See alternative brands for this type of lift, like the JLG E400AJPN.