Telehandler Safety Guide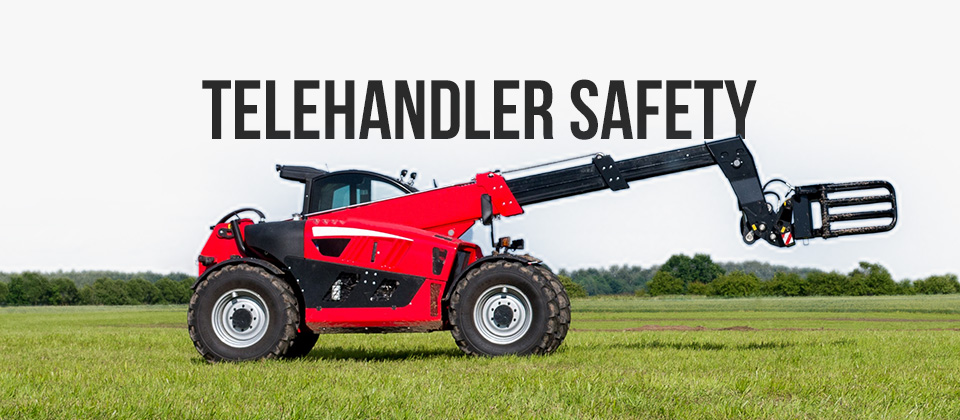 Telehandler Safety
Telehandlers can perform various tasks across different industries. This equipment can suspend, move and lift loads, and you can alter your load capacity depending on the attachments you use. With the appropriate safety tips, telescopic handlers can deliver an incredible work experience that reduces costs and accidents while boosting productivity and efficiency.
Following safety measures is essential for every workplace. In particular, industries requiring heavy machinery need the proper training and awareness to prevent accidents, injuries and machine damage. Learn more about telehandler safety now.
What Are Telehandlers For?
Telehandlers are versatile, able to extend or retract their arms to adjust the maximum lift and reach height. Many industries use this equipment, including agriculture, construction and waste and recycling. Telehandlers have a telescopic boom, and you can choose various attachments to achieve different suspending loads, lifting functions and more.
Telescopic handlers can function across diverse terrains, environments and sites due to the equipment's adaptable nature. A telehandler can replicate the actions of a crane or forklift by using the proper attachment. The piece's design makes it easy to switch functions to reduce effort and minimize time requirements to complete tasks that may otherwise need multiple machines.
This equipment is often suitable for lifting pallets, but there are several other applications for these tools. The agricultural and construction industries use these tools for indoor and outdoor applications. Primarily, people use telehandlers for moving and lifting large loads from one location to another. You can use telehandlers to transport:
Waste
Earth
Pallets
Timber
Bricks
Concrete blocks
Steel beams
How to Operate a Telehandler Safely
Effective and safe operation is essential for delivering an unbeatable work experience. You can follow these telehandler tips to complete tasks quickly, reduce downtime and ensure everyone's safety on the project site.
Understand the rules and regulations: Before working with a new machine, you must understand the rules and regulations of the equipment and job site.
Receive specific training: Operators should always receive the appropriate training for using this equipment. Each person will need general and technical training to perform tasks safely. Studying the operator's manual will familiarize you with all functions and controls before running the machine.
Perform tests and inspections: Inspections and tests assure the machine's proper function. These tests should occur before beginning any shift. Those testing the equipment should immediately mark whether there is any problem with the telehandler and suspend use until it is in safe operating condition or receives necessary repairs.
Know your load: The freight's weight and center of gravity must always be within the machine's maximum load capacity. Additionally, you should always secure loads to minimize the chance of falling materials or debris.
Complete a workplace hazard assessment: It is mandatory to perform a workplace hazard assessment before moving new machinery to the job site. This assessment will identify any drop-offs, holes, slopes, unstable surfaces, overhead obstacles, power lines and any other potential hazards. If any of these issues are present, you must develop a plan to avoid a problem while operating the telehandler.
Be safe in the cab: Operators must perform several safety actions while in the cab, including wearing a seat belt and modifying the steering wheel and seat. Each operator should also adjust the side and cab mirrors for maximum visibility and ensure they can easily reach every control before starting the machine.
Remain with the stability triangle: To remain in the stability triangle, operators should level the chassis before controlling a load, run the equipment at a reasonable speed with the current weight and maintain the load and boom during use.
Use a load capacity chart: A load chart will help operators prevent overloading the telehandler. This chart must be available in the equipment, and operators must be able to clearly read it when using the equipment and any attachments.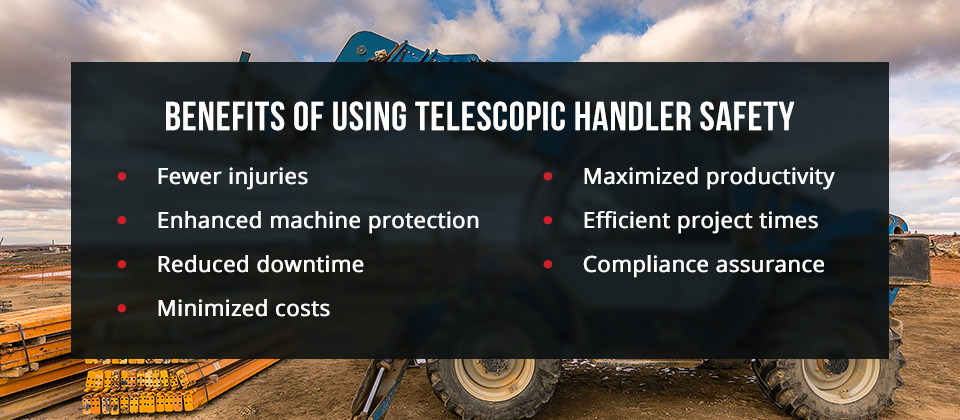 Benefits of Using Telescopic Handler Safety
There are several advantages of following safety tips for equipment. This advice protects workers, customers, machinery and your organization's reputation. You can reap the following by adhering to telehandler driving tips and safety steps.
Fewer injuries: Using the appropriate safety techniques will minimize the likelihood of injuries for workers, ensuring they can continue delivering their best work while avoiding unnecessary accidents.
Enhanced machine protection: The telehandler could get damaged in an accident. Following safety precautions ensures operators can continue their work and machines last as long as possible.
Reduced downtime: The job site will experience some downtime if a worker gets injured or a machine needs fixing. You may experience delays while training a new employee or waiting for repairs or replacement.
Minimized costs: Buying and maintaining this equipment can be expensive. Safety tips allow you to save money on repairs or replacements.
Maximized productivity: You can maximize job site productivity with all workers and machines available. Furthermore, workers may complete their tasks more efficiently.
Efficient project times: Maintaining an efficient team and equipment can empower you to finish projects faster and keep you on schedule, increasing client satisfaction.
Compliance assurance: Complying with all safety guidelines prevents legal penalties and fees and gives your business an excellent reputation.
About Our Telescopic Handler Equipment
At Chicago Industrial Equipment, we understand uneven surfaces can present a significant challenge for machinery. Our vast inventory includes new and used telehandlers so you can find the machine you need to operate in the most challenging conditions. With us, you can complete your projects while staying within your budget and time frame.
Our telescopic terrain forklifts come from leading manufacturers known for innovation and the highest possible quality. We work with trusted names like SkyTrak, JLG and E-Z Go Freedom to get you the best equipment for your specific applications.
We also offer flexible financing and shipping worldwide. We can help you make your purchase affordable and give you the best fit for the job. Additionally, you can rent our equipment to avoid unnecessary long-term costs and meet your needs quickly.
Get Started With Chicago Industrial Equipment
Chicago Industrial Equipment is a leader in the aerial and forklift industry. We've been making great strides since 1981, and we aim to provide quality equipment at competitive prices. We're the largest dealer of aerial lift equipment and forklifts, and we feel confident we can help you find what you need. Contact us to speak with a representative or receive a custom quote.