The Yale Forklift Leader in Chicago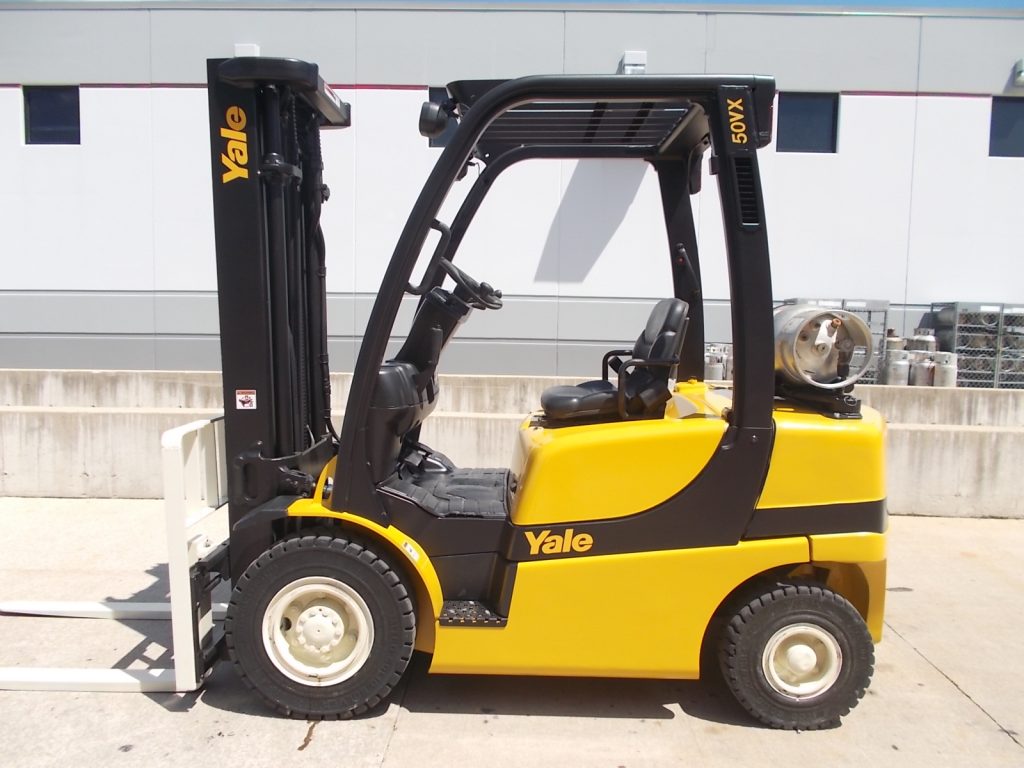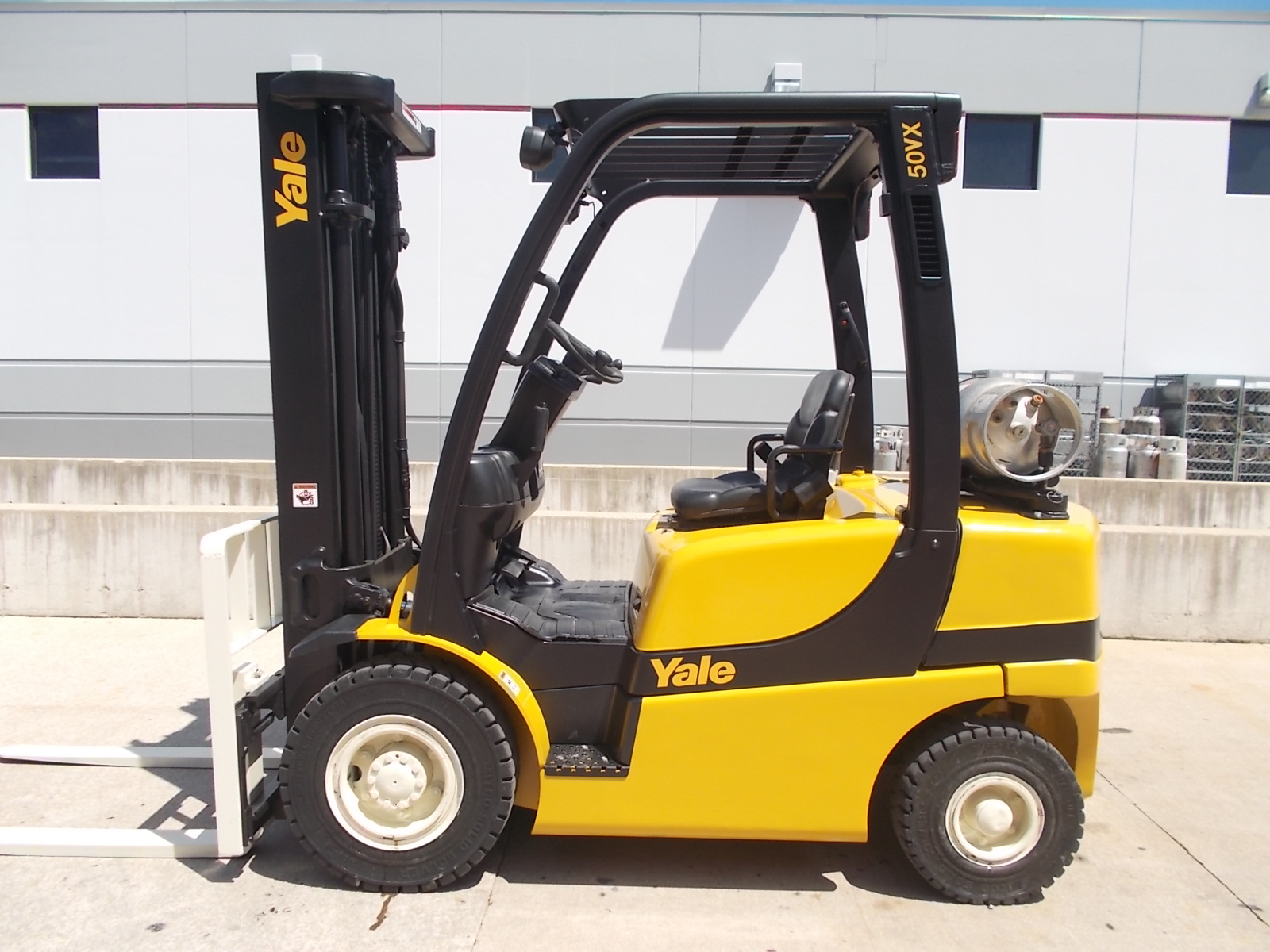 Yale has a long and proud lift truck history dating back nearly a century. Chicago Industrial Equipment carries on the Yale tradition of excellence by offering a broad selection of Yale forklifts for sale. Chicago-area business owners know they can count on us to always deliver top-quality Yale forklifts at affordable prices. That's what has made us one of the most trusted lift truck sources in the region!

What Makes Yale Forklifts So Popular?
Yale forklifts stand out among the competition for their quality, durability and customer-based design.
Durable Product Line
Yale is one of the most trusted names in the forklift business — it has been manufacturing machinery for the material handling industry for more than 130 years. It specializes in forklifts and is well known in the industry for its strong product line, which spans many industries and includes models ideal for large and small businesses.
Yale sells equipment and provides service and repairs through local, reputable, authorized dealers. It sells everything from modestly sized 2,000-pound forklifts to heavy-duty, 36,000-pound machines, so just about any business can find a forklift model that works for its needs.
Efficient, Sustainable Production
Yale is well known for the efficiency of its production processes — its teams know keeping customers happy starts with quality products and quick shipping times. Yale uses special demand-flow technology that allows its manufacturing facilities to build products as customers request them, keeping production within a tightly controlled schedule while lowering inventory costs.
Yale also prides itself on its sustainable manufacturing. The company has achieved global certification for ISO9001:2008, a rigorous international standard. Certification for this standard means a company has customer-focused production processes specifically designed to boost efficiency and minimize waste.
Customer-Focused Design Improvements
Yale also prides itself on its customer-focused research and design processes. Its teams request customer feedback at every stage of new product development, from research to concept development to early test programs. After receiving feedback, they tweak their designs before embarking on full-scale rollouts. Their goal is to develop equipment that is easy for consumers to use and helps make work more efficient.
Yale equipment is also designed to be comfortable. Its teams often watch forklift operators using their equipment and note potential ergonomic improvements. Onboard computers transmit useful information about how consumers use their machines and what improvements are possible for new models. They can also provide useful information for fleet management programs.
Hyster-Yale History
The Hyster-Yale Group encompasses the Hyster and Yale brands. The history of these brands dates back to before the Civil War.
1800s
In 1840, a New York native named Linus Yale Sr. started designing and building innovative new locks at his Yale Lock Shop. After the war, his shop moved to Stamford, Connecticut and became a company called Yale and Towne Manufacturing.
Under the leadership of Henry Towne, Yale and Towne Manufacturing began manufacturing materials handling equipment and grew to be the largest company in Stamford.
Early 1900s
The Yale brand officially began some years later, in 1920. That year, the company launched a new model of battery-powered low-lift platform truck, as well as several high-lift platform trucks and one of the earliest lifting trucks with a tilting fork.
As legend has it, the brand name Hyster comes from shouts of "hoist 'er" that loggers gave as they prepared to lift a heavy load. In the 1930s, the company known as Hyster introduced one of its first forklift trucks. During World War II, Hyster manufactured many lifting machines for shipment abroad, cementing its international presence. Yale and Towne also expanded internationally.
Late 1900s
In the 1980s, Yale and Towne became known as Yale Materials Handling Corporation. North American Coal Corporation (NACCO) established itself as a holding company for Yale and soon acquired Hyster as well. NACCO Industries created the NACCO Material Handling Group (NMHG) to coordinate and manage the two companies.
In the 1990s, Hyster-Yale continued to produce the same high quality and product innovations the brands had long been known for. Some improvements focused on making key components, such as controllers and tiller arms, consistent across products. Hyster-Yale facilities also received the coveted ISO 9001:2000 quality accreditation.
2000s
In the mid-2000s, Hyster-Yale innovations included brand-new, incredibly reliable internal combustion engines, as well as a very narrow aisle (VNA) truck with a unique design and a new generation of electric counterbalance trucks. This decade also saw continued investment in product development, supply chain efficiency and expanded global manufacturing capacity.
In 2012, Hyster-Yale Materials Handling became an independent public company and in 2016, NMHG became the Hyster-Yale Group. Despite the name changes, Hyster-Yale continues to provide the quality products it is famous for. In recent years, the group has made strategic global acquisitions and continued to improve its forklifts to provide the best customer experience possible.
Types of Yale Forklifts
Yale offers several forklift models specialized for various applications:
1. Reach Trucks
Reach trucks are ideal for use in tight spaces such as those in high-density warehouses. Yale's reach trucks have capacities ranging from 3,000 to 5,500 pounds. Some narrow-aisle reach trucks are optimized for use in cramped aisles, while others have moving masts designed to serve elevated storage locations.
2. Order Pickers
Order pickers are a type of small forklift optimized for helping operators reach items needed for order fulfillment. Yale's order pickers have 3,000-pound capacities and are designed for medium and high lifting. They have the state-of-the-art technology needed for reliable performance and the ergonomic layout to keep operators safe and comfortable.
3. Pallet Trucks
Pallet trucks are basic trucks ideal for moving pallets within a warehouse. Yale offers several ergonomic, dependable pallet truck models:
Motorized walkie pallet trucks
Lithium-ion-powered pallet trucks
Walkie low-lift pallet trucks
Manual hand pallet trucks
Rider low-lift pallet trucks
End-rider low-lift pallet trucks
4. Pallet Stackers
Pallet stackers feature a fork to help stack pallets more easily. Yale's ergonomic, safe pallet stacker models include these types:
Motorized walkie pallet trucks
Walkie reach stackers
Walkie high-lift stackers
Walkie counterbalanced stackers
5. Very Narrow Aisle (VNA) Trucks
These narrow-aisle forklifts are designed for maneuverability within tight warehouse aisle spaces. They are highly useful in high-density warehouse environments, and they also have the stability, ergonomics and overall performance to keep operators safe and productivity high. Yale's VNA trucks have a capacity of 3,000 to 3,500 pounds.
6. Three-Wheel Electric Forklift Trucks
Yale's three-wheel electric forklift trucks have capacities between 2,500 and 4,000 pounds. These forklifts are efficient stand-up lift trucks ideal for drive-in and dock use. They feature a tight turning radius, ergonomic design and simplified service to minimize maintenance and downtime.
7. Four-Wheel Electric Forklift Trucks
Yale's four-wheel electric forklifts provide more lifting power than their three-wheel counterparts — they have capacities ranging from 3,000 to 19,000 pounds. They offer the same ergonomic design and stability for safety and performance.
These forklifts come with either cushion or pneumatic tires. The pneumatic tire models offer increased traction, especially outdoors and increased weight capacity.
8. Compact Internal Combustion Trucks
These trucks use internal combustion engines to offer excellent power and high load capacities while retaining a compact footprint and maneuverability. Capacities for these Yale trucks range from 3,000 to 15,500 pounds.
9. Internal Combustion Pneumatic Tire Trucks
The combination of an internal combustion engine and highly stable pneumatic tires means these trucks have superior lifting capacity. These models can lift between 3,000 and 19,000 pounds and offer excellent ergonomics, stability and performance.
10. High-Capacity Forklift Trucks
Yale's high-capacity forklifts offer superior power and performance, with capacities ranging from 19,000 to 36,000 pounds. These specialty trucks provide the heavy-lifting power necessary for the toughest material handling jobs.
11. High-Capacity Cushion Tire Forklift Trucks
Yale's Pegasus Elite Series high-capacity cushion tire trucks have capacities ranging from 20,000 to 50,000 pounds. They feature heavy-duty design, premium ergonomics and high lifting capacities within a standard footprint. Their cushion tires offer an excellent blend of stability and cost-effectiveness.

What to Look For When Buying a Used Yale Forklift
When you're in the market for used forklifts, keep these considerations in mind:
Fork condition: Look for wear and damage on the fork. You want the fork to be in good condition to get the most use out of it before it requires replacement.
Lift chain condition: Check for gaps in the lift chains, which can weaken the forklift's structural integrity.
Mast operation: Ideally, the mast should operate smoothly up and down. If not, the mast rollers may be worn or poorly lubricated.
Tires: Check whether tires are free from chunking — missing portions — and cracking. Be sure the tires also have sufficient tread left to maintain traction.
Battery life: Ask the dealer how many years the forklift has been in use and how many shifts it has performed. Several years of single-shift use or fewer years of double-shift use may mean the battery is reaching the end of its life.
Engine maintenance: Make sure the engine is maintained and in good condition. Check the oil, assess the belts' tightness and lubrication and look for leaks or cracks in the hoses.
Safety features: Be sure the forklift has working safety features such as a horn, seat belt, brakes, lights and seat adjustments. Check the overhead guard frame for damage, which could put your operators' safety at risk.
There's a Yale Forklift for Just About Every Material Handling Need
Yale manufactures all types of forklifts and lift trucks, including pallet trucks, order selectors, reach trucks, very narrow aisle trucks and more. Chicago Industrial is your headquarters for cushion and pneumatic tire Yale forklifts for sale that operate via electric motor or internal combustion engine. With more than 35 years of industry experience, we can help you select the best Yale forklift for your specific business applications and budget.
You Can Always Count on Us for a Dependable Used Yale Forklift
When it comes to a Yale forklift, a used machine can provide excellent value for your heavy equipment dollar. You'll find our large fleet of more than 500 lift trucks includes an assortment of late-model, low-hour used Yale forklifts for sale in the Chicago area.
Visit our Rockdale, Illinois, facility that features more than 75,000 square feet of lifts on display to find the perfect used machine for you. Our property also includes a reconditioning shop where we expertly restore used lift trucks to like-new condition. In addition, we sell "as is" equipment that previously served the equipment market. And if you can't find what you're looking for, we'll be happy to locate it for you.
We Can Arrange Financing for Your Yale Forklift Purchase
Chicago Industrial offers fast and flexible financing to make your Yale forklift purchase even more affordable. We've partnered with Direct Capital, a nationwide lender providing a range of financing options that can be customized to your business needs. You can apply online at your convenience, and you'll receive a response within 24 hours.
We Ship Yale Forklifts to Just About Anywhere
You don't have to be in the Chicago area to buy a Yale forklift from Chicago Industrial. You'll find our complete inventory right here on our easy-to-navigate website, so you're free to shop at your convenience.
When you're ready to move forward, simply give us a call or fill out and submit our online contact form, and we'll be happy to provide a no-obligation price quote. We can ship our equipment to locations throughout the U.S., Canada, Mexico and even around the world.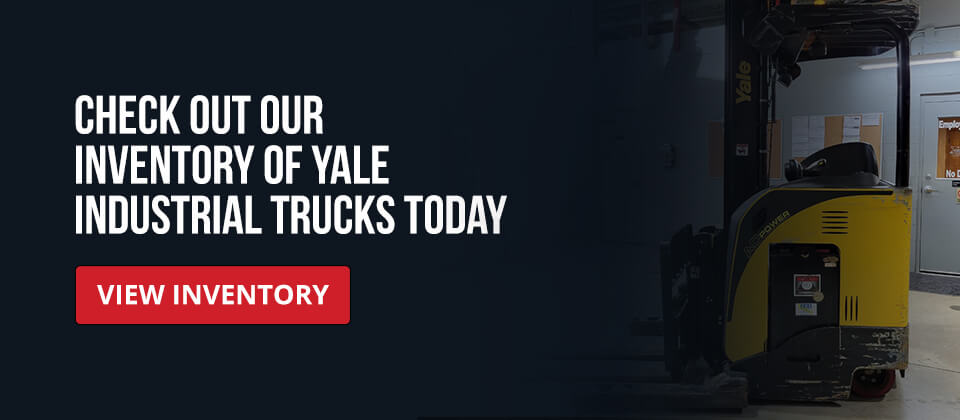 Check Out Our Inventory of Yale Industrial Trucks Today!
When you're in the market for a durable, high-performance used forklift, make Chicago Industrial your trusted partner.
We focus 100% on the reconditioning and sales of used forklifts and other equipment, so you know you're getting a safe, reliable forklift when you work with us. We inspect and service every one of our forklifts from Yale before it leaves our shop and we can ship to numerous locations internationally.
Don't put off getting the Yale forklift that can take your business to new heights. Browse our current inventory of Yale forklifts for sale today!

See Specific Yale Models
Equipment & Lift Brands That We Carry: